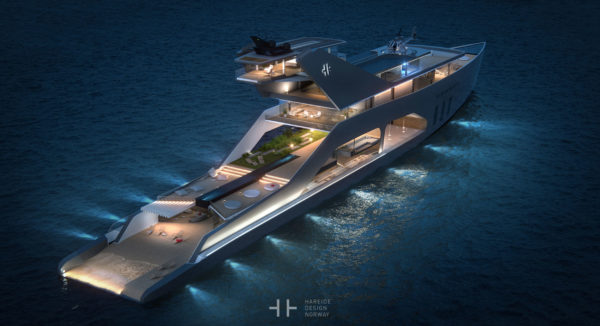 Your Newest Floating Hotel
Hareide Design Norway has taken a huge step in developing their newest Mega Yacht. The Concept can't be better described then the way the team has on their website. The Mega Yacht is more related to a giant floating hotel instead of a ship. The Huge ship, which was unveiled on July 4th, is surprisingly green in its design. 300+ Plus meters of solar panels line the edges of ship, giving the engines enough sustainable energy to ride gently across the water. Of course, to make better time, you could always engage the diesel-electric propulsion they've built into the engines.
Of course the engines aren't the only thing amazing about the Mega Yacht. The expansive deck is equipped with a 20m pool that is surrounded by an amazing garden. The dining hall is elevated and covered with a large glass wall you can easily see through to view the gorgeous ocean that surrounds you.
Of course, a ship like this would never be complete without some way to easily get on land when needed. Instead of going with the stereotypical route of taking a boat, HDN has equipped the yacht with it's own helicopter. Give your captain the order to gently float off shore, then hop in the copter and head towards land.
A ship like this of course hasn't been built yet, as it's only a concept. HDN is currently looking to see if there's enough interest to get this built, so for all those looking for their next huge Mega Yacht, be sure to message HDN with your interest!