Boats are becoming more and more popular among travelers, providing an exclusive experience which not everyone can afford. People choose to own or rent a boat during holidays as they are looking for more privacy, while still enjoying the sea and the sun, however far away from the others' eyes.
Driving a boat: Initial guide
If you haven't driven a boat before, for sure you are a little bit concerned. But don't worry, as with any other beginning, things seem to be harder than they are in reality. Start by exploring the following 10 steps on How to drive a boat:
In case of a boat powered by gasoline, with an engine compartment, run the "blower" (an exhaust fan) for four minutes as per the manufacturer's recommendations prior to starting the engine. This is just to make sure that there isn't a build-up of fumes in the compartment. 

Start the engine by putting the key into ignition. Modern boats might have push-buttons instead. 

As required by the U.S. Coast Guard law, if the boat has a "kill switch", clip the lanyard on a belt loop of a life jacket ring (engine safety cut-off).

Check one more time if all your gear is aboard and all your friends or family members are prepared to disembark. 

Remove all the lines securing the boat to the dock, pier or slip. 

Gently push the throttle handle forward to engage forward (or reverse if you need to back out).

Once the boat starts to move, spin the wheel just as you would turn the steering wheel in a car.

Advance the throttle to increase the speed.

Observe the conditions and trim the boat accordingly.

To slow down, gently pull the throttle back towards the neutral position.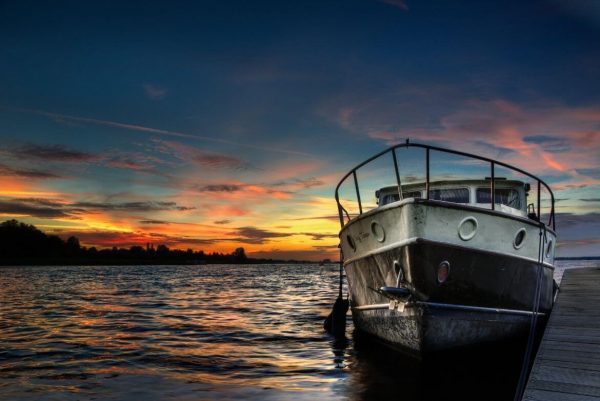 Remember that all boats are different and it will take some time until you will feel 100 percent comfortable in driving one. Don't give up if you face one or two challenges as you learn how to run a boat.