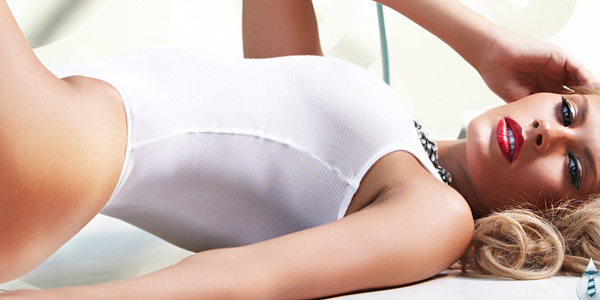 We're always mixing cool, awesome with practical stuff here on HisPotion. The cool, awesome and beautiful here is Simona Starkute, a Lithuanian supermodel. The practical part is you'll like Simona so much you'll take your time to search the small European country on map. That's a plus to your geography knowledge!
She appeared on the Lithuanian Playboy's cover, she sleepwalks naked and she gets hit on a lot, but you'll find out much more in the interview below.
Lithuania is rather a small country. Make it famous in one sentence.
Simona Starkute: Lithuania is a basketball country with loads of beautiful women and good beer.
So, you're a somnambulist… Have you experienced other stuff rather than sleepwalking? Like Sleepdishwashing or sleepwatchingtv, or God knows what?
Simona Starkute: I dont know to be honest with you…:) I actually don't even feel when I do that, only in the morning, my boyfriend asks me why I was punching him in the night and I don't have a clue what he's talking about 🙂
How many times have you Googled yourself? What have you found?
Simona: Quite a few times. I didn't find anything special, just loads of pics, fan pages, interviews etc.
What's the best invention ever? Why?
Simona: The mobile phone, cause you always stay connected with rest of the world.
We're a website that features smart stuff for men, have you ever thought of an invention that would ease your day to day life?
Simona: Yes – a robot that cooks and cleans, as these are the 2 things that i hate the most !:)
What is your go-to type of present for guys?
Simona: Electronic stuff, good perfumes, nice peace of clothing, sometimes with these kind of presents I get a box of black caviar, so that would be also a treat for myself 🙂
If you were to buy a present for him, what would you chose from HisPotion.com ?
Simona: Fom HisPotion.com i would get him a Smartbike .
Tell me one of the funniest stories from your modelling life.
Simona: Me and my photoshoot team from Germany were in Bermuda shooting for a swimwear client. It was the high season – temperature around +35 degrees Celsius (+95 Fahrenheit) and a photographer didn't let me drink water…Why? Because in his head he thought that I will sweat more if I will be drinking water! Of course no one from the team wanted to argue with him, so my stylist hid a big bottle of water in a private toilet at the hotel, so whenever I was thirsty, I had to go there… I guess the rest of the team thought that I had some kind of issues like diarrhoea or something… Not funny at all!:)
What's it like to be the Playboy covergirl?
Simona: It didn't really change anything in my life. I have been in this business for 12 years, so I guess people kind of got used to seeing me in different kind of photoshoots 🙂 Also it was the celebrity theme, so I didn't need to be naked, just topless. Probably I would never do it, if they would ask me to do it completely naked.
[adsense300gray]Do you have a favourite female model?
Simona: No, but I have favourite actress. It's Sharon Stone.
What do you wear to sleep?
Simona: I sleep naked!
What do you like most in men?
Simona: A good sense of humour and when men takes a good care of women
How often do you get hit on?
Simona: On the internet, at least 5 times a day ( facebook and etc.). In real world everytime I go somewhere – at the gym, meet a friend, have a dinner or drinks.
Are you a giver or receiver?
Simona: I am both at the same time. I am like the other person's reflection – if you're giving me everything, I'm also giving everything to you.
Quickies questions:
Beard or no beard
Simona: No beard
Best movie ever?
Simona: The Notebook
What do you expect from others?
Simona: I do expect all people to help each other more!
Why did the chicken cross the road?
Simona: To get to other side
You can follow Simona on Instagram
[photomosaic exclude="16108, 16109,  16102, 16099, 16097, 16096, 16085, 16084, 16083, 16082, 16081, 16080, 16079, 16068, 16069, 16071″]