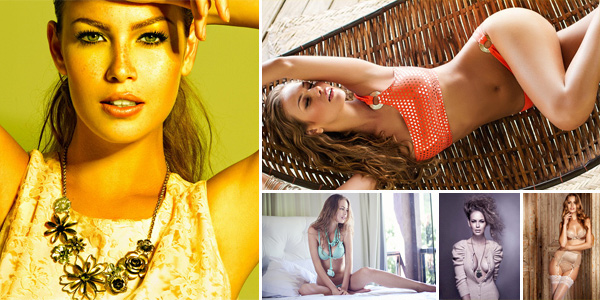 Our bag is full of superlatives when it comes to describing Veronica, but let's settle for the two in the title for now. We'll let you discover the Batman part in the interview below. When it comes to gorgeous women, the land of soccer and samba – Brazil has never let us down, and here is yet another great example. But we've tried to go further and learn more about Veronica, in an exclusive interview for HisPotion's readers.
"Be yourself! Unless you have the option to be Batman, then Always Be Batman!" That's an amazing piece of advice we've got from you, via your instagram account, but let's get serious for a moment – what is the best advice you have ever been given?
Veronica Assis: Hahahahaha, it's a good one!
Everyone should read the four laws of spirituality of India.
1. "The person that arrives to your life is always the correct one"
2. "Whatever happens to you is the only thing that could have happened to you"
3. "Your destiny happens always at the right moment. Not before or after. Every moment in your life happens only when it has to happen"
4. "When something has to end, it just ends"
What's your favorite Batman movie?
Veronica Assis: To be honest, I prefer the cartoons and comics. My older brother is a comics' artist and I've learned since I was a child to appreciate that. I like the one with the Joker, The Dark Knight. (Y)
Ben Affleck is the new Batman. What do you make of it? Will he match Christian Bale's performance?
Veronica Assis: Hahahahahahahhaha, I'm laughing over each question. LOL! As I told you, the Batman's movies are not my bag, but the ones I saw I pretty liked Bale's acting. The actors has the power to change and have different personalities, Affleck is also a great actor and I do believe he'll surprise us.
[adsense300gray]How many times have you Googled yourself? What have you found?
Veronica Assis: Not so many. I do it when I need things to post on my Facebook page. I sometimes find funny stuff, a lot of bikinis pictures and male blogs talking about the Brazilian model.
I know you love The Beatles. What modern-era bands do you listen to?
Veronica Assis: YES! I LOVE THEM! I love music in general, depends a lot of my humor. I like Fun, Empire of the Sun, MGMT, Okkervil River, all this kind of pop/rock songs. As a good girl I like Beyonce, she is incredible! But none of those comes close to how much I love Beatles…..NOTHING.
What's the best invention ever? Why?
Veronica Assis:I hate smartphones. But I have to admit that it's an amazing invention, you can be in touch with the whole globe in seconds, the internet is awesome. I can talk to my family miles away from here and I can answer you to this interview in another country and you post it and instants later, the world will know that I hate smartphones and I wish I could be Batman.
Who are your top 3 picks when it comes to designers? – Especially those that create men collections
Veronica: For me it's not about names or brands. I like good things but I also look at the price tag, I like good quality and good price. You can find nice stuff in Zara and Mango. Talking about haute couture, Giorgio Armani is amazing.
What do you do besides work?
Veronica: I also have a model scouting agency, called Avenue Ineternational. The idea is to send models around the world as one day an agency did with me. I love cooking and reading. I have my handsome husband and my sweet pet that take a lot of my time.
What is your go-to type of present for guys?
Veronica: I like to do by myself, maybe some travel tickets or make a good dinner. I'm always trying to create something new. I guess it's cooler when the gift is original, not about the material thing, you can plan a full day, starting with a nice breakfast and going around and go to new places, good moments together. That can be a interesting option.
We're a website that features smart stuff for men, have you ever thought of an invention that would ease your day to day life?
Veronica: Not inventions, but improve some things, like more vegetarian options and places that you can carry your pet while you eat. I live in Mexico and it is a amazing country but the public transport is still poor. The days would be easier with just a little bit of common sense.
If you were to buy a present for him, what would you chose from HisPotion.com ?
Veronica: I loved the Shelby GT 350 Pool Table, I love old and classics cars, and pool. And the V12 Engine Espresso Machine.
Tell me one of the weirdest stories from your modelling life?
Veronica: Last year while working in Istanbul – Turkey on Ramadan, an Islamic tradition to make a fasting while the sun is up. So I had to fight on my job to get some food and eat hiding from them to don't make them feel uncomfortable.
What do you expect from others?
Veronica: Most of people say they don't expect anything from others or they don't do anything but expect good things back. But I do. I'm a respectful person and I like to feel the same thing back. As I said before, the minimum of common sense.
Quickies questions.
Beard or no beard
Veronica: Beard
Best movie ever?
Veronica: Not the best but the last one I watched that I liked pretty much was Shawshank Redemption.
iPhone or Android devices (maybe Windows phones)?
Veronica: Anyone, I just need to make and get calls.
Best cocktail?
Veronica: Caipirinha from Brazil
Superman or Batman?
Veronica: "Be yourself, unless you have the option to be Batman. Then always be Batman."
Why did the chicken cross the road?
Veronica: To get to the other side.
You can see more of her – follow Veronica on Facebook
[photomosaic exclude="12409, 12408″]