Legends have kept coming into this world, reining their eras, and then departing us by leaving a mark and reputation behind. But earning this fame and reputation by impacting millions of people's lives did not come easy. The amount of struggle and effort they would have put in to reach that top level in whatever field they excel in is what made them who we know them to be. Such are the people who are said to be legends. One such legend of the 19th century admired by many is Steve McQueen.
A brief into his early life
Many of us may know McQueen today for his fame and works done, but the struggle behind his success might not be known. From being raised in an abusive environment to having lived on the streets for a few years and then being sent to a boy's home and landing in the marine corps, his rebelliousness changed into positivity over time.
Later on, he began his Hollywood acting career in 1952 and slowly rose to great fame with notable movies such as 'The great escape' 'The Sand Pebbles' 'Bullitt' and more.
McQueen had indeed worked his way through Hollywood with his iconic acting skills and movies, but another domain that he largely impacted and pulled off well was fashion. 

The King of Cool
Alongside being an actor, Steve's exquisite wardrobe was what made him a fashion icon too. He was a man who could pull off any outfit- be it a western attire, casual workwear, or even a suit. The confidence and style he carried himself within his clothing are what men wish they had and look up to. And Steve was one of those few lucky men who looked good in anything he wore, earning him the nickname 'King of Cool.'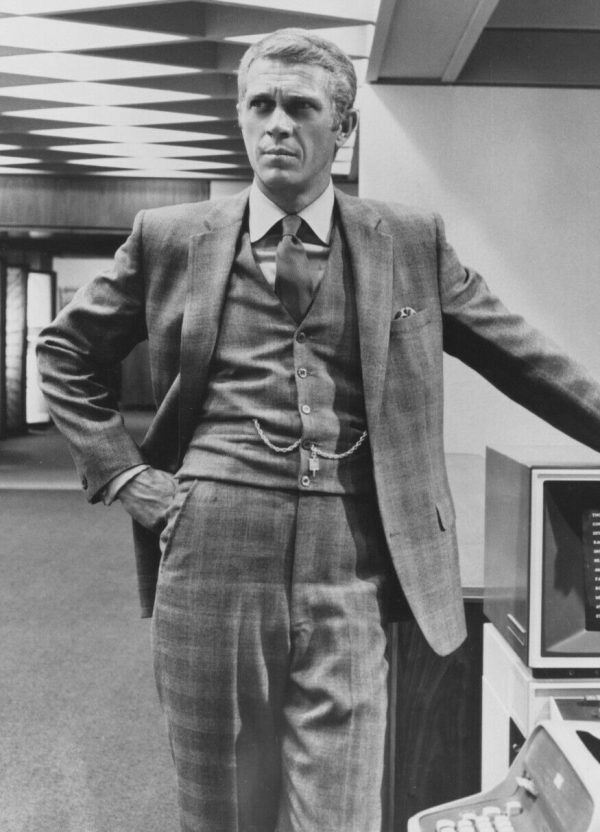 If we were to analyze the fashion sense of Steve, then we can come to the following results-
Keep your look classic– Steve never wore more than one accessory, and neither did he go with the 60s trend of flashy printed jackets or bell bottoms, making him have his own classy yet straightforward style.
Multiple layers of jackets- McQueen, a fan of jackets, always layered himself with classic Harrington, Bomber jackets over sweaters.
Top up with a classy watch- Steve always topped his outfit with Tag Heuer or Rolex watches. They gave an all-the-more classy look to his outfits.
Well-fit suits- Steve always wore well-fit and tailored suits whenever he had to, giving a dashing look.

Signature shades- find your signature shades that make your look stand out, like McQueen.
Pulling off outfits can sometimes be challenging; hence, following or taking inspiration from a fashion icon like Steve McQueen can help you look classy. His simplistic yet bold sense of fashion gave him the style and personality to stand out amongst the crowd, influencing many even to date. A man like him knew exactly what suited him and went ahead and dressed accordingly. All these made him a gentleman of style!
Related topics:
Tom Ford And His Emblematic Style