Today's post focuses on men's leather jacket outfits, leather jacket styles, but also top brands designing leather jackets.
Leather jackets represent a fashion item that has been around for almost a century. Because of its versatility, almost every man has a leather jacket in his wardrobe. Whether you are going out for a first date or hanging out with your friends for drinks, a leather jacket can keep you looking fresh all day long.
In this article, we will have a closer look on how men's leather jackets outfits have evolved over the years, what are the main types of leather jackets for men and the best leather jackets brands.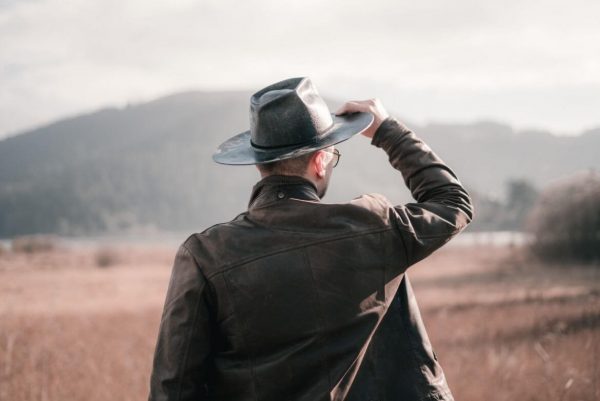 "I'd always wanted to write a song about a leather jacket and how wearing it makes you feel. I love leather jackets, and I've got a big collection of them." – Marc Almond
Men's leather jackets outfits over the years
Before we jump into how to choose a leather jacket or what are the Does and Don'ts when purchasing a good leather jackets, let's have a brief look at the history of this outwear fashion item, including the iconic mens leather bomber jacket.
1900s: Mens Leather Bomber Jacket 
Initially the usage of the leather jacket was more practical than the fashion purposes it's known for today. In the early 1900s, during the First World War, the iconic military jacket was worn by German fighter pilots. This style of leather jacket became known as the iconic mens leather Bomber Jacket in World War II, in the late '30s and early '40s.
The warm Bomber Jacket was very convenient for pilots who had to experience extreme low temperatures at high altitudes. Little did they imagine back then that their military uniform would become a fashion icon a few years later.
1920s: Leather Jackets for Men and Women 
During the '20s leather jackets started to be advertised for both men and women, with almost identical styles, apart from one small difference: the direction of the buttons. 
The first motorcycle jacket, designed by Irving Schott, was sold at the Harley Davison store in New York. That particular design was very influential and almost similar to the bike-style leather jackets we see today. 
1950s & 1960s: Leather Jackets, a symbol of rebellion 
The leather jacket trend truly skyrocketed in the '50s, with Hollywood embracing it, creating the iconic "bad-boy" image in some of the most popular movies of the day. 
A symbol of the time, the leather jacket was first showcased in The Wild One, where Marlon Brando was a dangerous gang member. This was soon followed by the movie Grease, which was set in the late '50s/ early '60s in California. As a result, the leather jacket became a symbol of teens' and young men' rebellion. 
1970s, 1980s and 1990s: Leather Jackets and the Pop Culture
These decades marked a major difference from the previous years: the leather jackets became increasingly popular with women.
During the 1970s, the legend Bowie was often spotted wearing long leather jackets, including for his album cover Heroes in 1977.
Within female stars, Joan Jett rocked her way through the '80s in a leather jacket with The Blackhearts band. During the same decade Michael Jackson also appeared in a red leather jacket for the music video Thriller, released in 1983.
Modern days
Over the following years, more and more celebrities and designers incorporated leather jackets in their outfits and fashion shows. Thanks to that, there are various leather jacket styles available today.
How to recognize a leather jacket of good quality 
The best leather jackets will always have that fabulous smell of leather. Artificial products can mimic the style, however the smell is not something that can be added. The texture of a leather jacket is also particular: smooth, buttery, with grain-like marks.
As a recommendation, always check the label!
"I have always been drawn to designing fashions that are rebellious, like black leather jackets on suburban kinds, a corset dress, punk, blue jeans. I love that. Fashion changes all the time, and what is considered extreme or elegant or luxurious (or not luxurious) is changing all the time." – Jean Paul Gaultier
Men's leather jackets outfits: 5 key styles
Within the wide range of leather jackets for men, choose one of the following 5 classic styles and you will not go wrong:
One of the most well known leather jackets for men is the biker jacket. Originally worn by motorcyclists, this asymmetric cut was designed to allow riders to lean over their bikes without the fastenings digging into the body. This type of leather jacket is usually cropped, in black, complete with studs and asymmetric zips.
It is generally considered a youthful, edgy style which can be worn with slim jeans, but also (in the right environment) over an Oxford shirt, as a replacement of a blazer. It's important to always ensure that whatever is underneath is lightweight, as the style should be cut close to the body. 
The field leather jacket is slightly longer than other styles, with multiple front pockets and belted at the waist. This style looks particularly good in rich brown leather, the most famous brands who focused on this style being Barbour and Belstaff.
A field jacket is perfect for winter, especially in the countryside, and can be styled with fitted jeans, a chunky knit and a classic pair of Chelsea boots. This is one of the men's leather jacket outfits that will never look bad on anyone.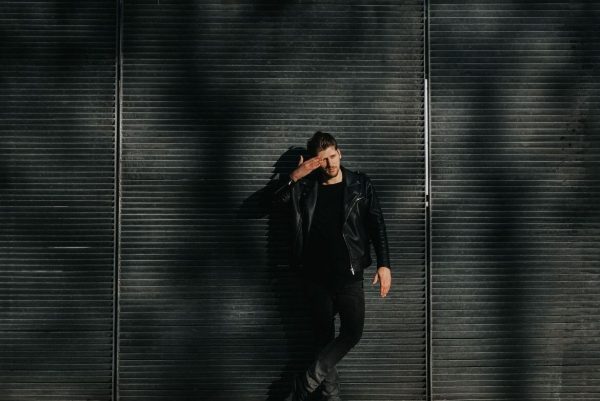 Mens Leather Bomber Jacket 
Earlier in this article we mentioned how and why the mens leather bomber jacket became a fashion icon. It has a simple shape (a cropped body featuring a central zip and fitted waist and cuffs) which can be rendered in anything, from shiny nylon to soft, supple leather.

The safest pairing of a bomber jacket is with raw denim and a simple white T-shirt or a chambray shirt.
The racer jacket (or Cafe Racer Jacket) is known as a subdivision of the bicker jacket style. You can recognize it for its round collar, straight zipper, and minimalistic style. Most of the time the racer jacket comes with two pockets on the chest and two on the waist. 
It is a very simple, yet beautiful leather jacket style, which can be worn all year around. 
As the name suggests, the flight jacket was originally created for pilots. When you wear a flight jacket, pay attention to the layering, keep it simple and contemporary. You can pair this type of leather jacket with plain trousers and a light knit t-shirt. Always balance the weight of the jacket by ensuring that the rest of the outfit is slim-fit and tailored. 
10 Best Leather Jackets Brands
Based on reviews and recommendations, these are the 10 best leather jackets brands:
Belstaff's signature belted leather jackets for men are classy, timeless, refined and unapologetically British. This is the perfect choice for those who like the idea of investing in leather outerwear but want something a little more grown up.
The first ever British motorcycle clothing company, Lewis Leathers' jackets earned the respect not just of bikers, but also several mid-century youth tribes, with the Bronx jacket becoming a hallmark of the Sixties rocker subculture.
Tom Ford usually brings a Studio 54 approach to his leather jackets for men, whether it is a cropped biker jacket or a slightly sleazy leather blazer. Most of the time, fashion's king of sex appeal' leathers are tough and buttery soft.
Without Schott NYC there'd be no Perfecto motorcycle jacket or zips on the leather jackets in general, given that this pioneering outwear powerhouse was the first to add them. 
Everybody says that leather jackets get better with age. Cucinelli leather jackets are the only ones that do not follow this rule, with their cashmere linings and silky ribbings. Cucinelli leather jackets lack of "rock 'n' roll energy", however make up for it with sheer luxuriousness. 
Their biker jacket has been an icon since the sixties, when the designer himself introduced it as part of his sixth collection as Head Designer of Dior. Shortly after, Yves Saint Laurent stopped the collaboration with Dior, setting up his own brand, the black leather biker jacket being a staple in his collection ever since. 
When it comes to leather jackets for men, Acne Studios takes tried-and-true styles and updates them with artful, contemporary tweaks that range all the way from subtle to downright outlandish. Perfect for those who are after something a little bit different.
Dunhill's leather outerwear selection features everything from blazers to smocks, but it's the bomber and aviator jackets that really stand apart: clean, simple and made to last a lifetime.
If you think you cannot get a decent leather jacket on the highstreet, it's for you to check a Reiss store. Think classic styles reimagined in body-hugging cuts, with details kept to a minimum. This will help you build cool, not very expensive, men's leather jacket outfits.
Since 1994, the London-based brand has been building its reputation as the go-to place on the high street for outerwear with attitude. Expect soft supple leather, modern cuts and a shadowy colour palette across the board.
Men's leather jacket outfits – Does and Don'ts
We thought of ending this article about men's leather jacket outfits with a few tips for you to follow when purchasing or wearing this precious fashion item:
Don't use your local dry cleaner
Clean your leather jacket yourself by using a damp cloth or sponge with soapy water (no bleach) to remove any marks, but try first in an area which will not be visible, e.g. inside hems or the underarm area. Then dry with a clean soft cloth.
Don't wear your leather jacket in the rain 
Wearing your leather jacket in the rain might result in the skin becoming dry and stiff. 
Do: buy a leather jacket that suits you
It is essential to buy a leather jacket that is comfortable and suits your image. 
Don't go for the trend-led styles
Trend-led styles come and go. It is better for you to go for one of the classic styles presented earlier in this article, and you will be able to wear it for longer.
If you are looking for versatility opt for a black or brown leather jacket, rather than something brightly colored. 
Don't store it incorrectly 
Sharp hangers might stretch your jacket and even its shape might suffer in time.
Read also: A Brown Suit for Men is a Great Choice Even for Formal Events