Stylish men can command attention when they enter a room. It's because they look great, whether dressing up for a formal function or getting creative with casual wear. Today, men's fashion has evolved to include gender-neutral clothing pieces which allow you to create your unique style in 2022.  
These style tips will help ensure that your outfit accentuates your style and the event, which have worked well for men all over the world, so if you want to elevate your style, consider the following:
1. Accessories Should Be Simple And Functional 
Accessories like a tie or RFID blocking wallet can be practical and stylish. There are various accessories available for men, and you can use them to accentuate your outfit, whether it's formal or casual.  
If you are wearing a formal suit, you can pair it with a stylish pocket square that compliments the style and color of the suit. The same can be said for pairing formal shirts with stylish ties. If you wear a pocket square with your suit or formal jacket, make sure it has darker shade than your jacket.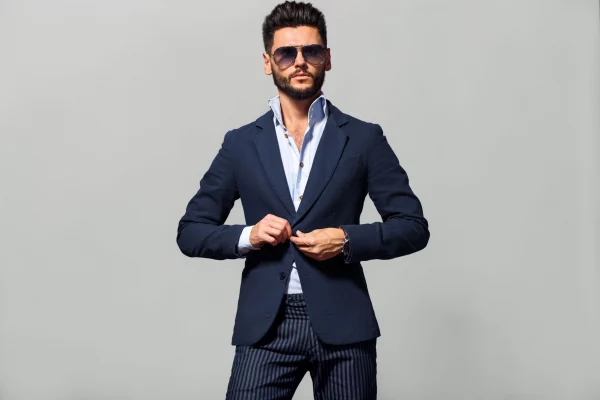 Other accessories you can pair with your outfits include watches, bolo ties, necklaces, and rings, amongst others. As mentioned earlier, men's fashion has evolved to include many gender-neutral pieces, with some daring men choosing to wear skirts stylishly over their jeans. However, if you are drawn to a more traditional classic look, you should keep accessories to a minimum for a clean, minimalist stylish look.   
2. Choose Simple Underwear And A Good Quality Wallet
When it comes to fashion, it's not just limited to what other people can see. Style can also include items the public doesn't see, such as underwear and wallet. Thus, when you feel great and comfortable in your more intimate parts, you'll feel good and complete with your look. 
Keep your underwear choices simple by choosing boxers or briefs made of cotton or linen. When choosing underwear, ensure your size because too-tight or too-big underwear will make you feel uncomfortable.  
Owning a good wallet is also one way to be stylish in 2022. Men's wallets have become stylishly lighter, like the mens carbon fiber wallet. They're fashionable and come in many sizes, styles, and colors that suit your preference. Wallets can get clunky, but luckily, modern wallets can be sleek and simple without all the bulk.
3. Invest In Great Shoes
When it comes to shoes, it can vary from getting fancy dress shoes to sneakers and sandals, depending on your style. If you are the type who generally dresses casually in sneakers and sandals, make sure you wear the correct size and that your style choices are covered. However, owning a few good formal shoes for those formal functions or meetings is also a good idea.  
Loafers are great for men who like relaxing or those completing an errand and can be very comfortable to walk in. If you wear formal shoes often, ensure you have a good pair of high-quality socks to complete the look.  
4. Get A Variety Of Outerwear
Outerwear is great for people who like to add layers to their style. It can include cardigans, vests, coats, jackets, and other items. It can also elevate your look and give you a smooth day-to-night transition in case you go for some drinks after work or stop by to see friends after a meeting.  
Choose outerwear that suits your style and function. For example, if you go to a more formal event, you can get a lovely coat to wear with your outfit. Remember to keep things simple and don't overdo it with the layering, as it can make your outfit look clunky and uncomfortable. Thus, keep it simple, classic, and stylish.
5. Own At Least One Great Dinner Suit
A great dinner suit can come in handy for those surprise formal events like a wedding elopement or a graduation dinner. Those who can't afford a dinner suit usually rent one for events, but it would be a great idea to at least buy and own a good quality dinner suit. You can get measured and fitted for a suit at your local tailors and use it whenever the occasion arises. 
A man in a dinner suit that fits him will always look great, confident and command attention.
Conclusion
By following these tips, you can elevate your sense of style in 2022 and learn how to dress effectively for different functions. And to elevate your look, start with getting comfortable underwear. Ensure it fits and has a simple design. Once you have chosen the best underwear, you can also get good-quality shoes. Keep it simple when it comes to accessories, and keep it minimal if you are layering your look. The key here is to create an authentic look that suits you.