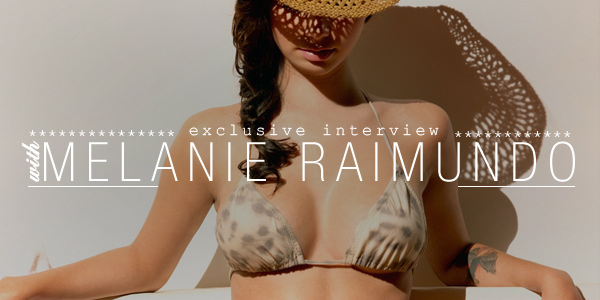 Our exclusive and sexy interview with Australian model Melanie Raimundo. Photo gallery below.

So you're Argentinian, I could have guessed that after watching your latest photoshoot (for ZenGarage). Do you know why?
Melanie: I would presume that you guessed I was Argentinian because of my curves, dark hair, olive skin and dark eyes.
So you left Argentina for Australia. Why?
Melanie: My family left Argentina many years ago after the Falkland war. The country was struggling in all aspects of life and my parents wanted us to have freedom and opportunities that Argentina could not offer so they came to Sydney, Australia.
What do you miss most about Argentina?
Melanie: From my trips back to Buenos Aires and Cordoba the things I miss the most are definitely my family, the culture and food. I miss having dinner with the whole family and afterwards, the women dancing to the music my cousins and uncles would play on the Spanish guitar.
We love empanadas – do you know how to cook? 
Melanie: I most definitely know how to cook! Mainly Argentinian, Italian and Spanish recipes though. I even know how to cook empanadas (two ways). 
What makes the Argentinian Beef the best in the world?
Melanie: Argentina has the best beef in the world because we have the land for them to be organic and free range (a.k.a Happy). We also know how to cook them that is the secret!
Do you watch sports?
Melanie: I don't often watch sports but when I do it is only football (soccer) and only when Argentina is playing.
Is Leo Messi the best football (soccer) player ever?
Melanie: Now I don't know about him being the best player ever but I can say he is pretty damn good!
What's your favourite activity?
Melanie: My favourite activity that is PG haha would have to be singing. I sing opera and its fun being good at something that comes so naturally J
What made you want to start modeling? What's your ultimate dream or goal in this field of work?
Melanie: I was never one of those girls that wanted to be a model or actress. I actually used to think I looked like a boy until I started "maturing" when I got more and more compliments saying I could model. So I tried for 5 years spending a lot of money on photos and getting rejected. I soon realised that I should show off what my mama gave me and become a bikini and lingerie model. My ultimate goal is to be in Sports Illustrated and/or do a casting for Victorias Secret and become more international.
In your opinion, what's your best asset?
Melanie: Oh that's a very very tricky one because I love everything about my body! I would have to choose 2: my lips because they are the perfect level of juiciness and my breasts as they are naturally an E cup thanks to my Latina genes.
I noticed your eagle tattoo. Do you plan on getting more?
Melanie: My eagle means to me "never allow the illusion of limitation to ground you from your flight". I actually have a lioness above my right butt cheek that one to me is the woman I want to be (strong, beautiful, independent and caring of her young). My next tattoo I am hoping to get would be a stallion on my ankle so I can ride over all my fears and conquer them.
Pillow fight – is that a thing?
Melanie: Well I can remember our schoolies week (sort of spring break in Australia) with 5 other girls. For the whole week it was just us girls alone at a beach house tanning topless, walking around in just our lingerie and you could say that pillow fights were a thing to keep us entertained 😉
What do you wear to sleep?
Melanie: I usually sleep in my mans shirt and undies. Keeps me warm and are very comfortable.
It seems you like cars. How about motorcycles? And what's your dream car?
Melanie: Yes well I have always LOVED cars, although I don't know that much about them I love listening to men talk about cars and anyone that has a sexy car (engine or body). I don't know much about bikes but they are still sexy (if you get the right make). I don't have a car at present moment but my dream car would definitely be a Shelby Mustang '67.
What do you like most in men?
Melanie: I love a man's arms. To me they represent masculine strength, the ability to build things, being able to protect me and keep me safe and warm in the winter.
If you were to buy a present for him, what would you choose from HisPotion.com ?
Melanie: I would choose a Gentleman's survival kit. I have always seen myself as a 50's housewife and love a strong masculine gentleman. This would just get him that much closer. 
Do you have a boyfriend/husband? What's the one thing you do that drives him crazy? 
Melanie: I have been with my amazing boyfriend for over a year now and I have to say that one of the things that drive him crazy (in a good way) is when I wear a little outfit and cook something for him.
What about in a bad way?
Melanie: For driving him crazy in a bad way… lets just say I am latina and I can get a bit crazy about little things.
How about you, what's the one thing a guy could do to drive you crazy?
Melanie: All he has to do is kiss me on the neck and I melt in an instant.
Ever had a girl crush? 
Melanie: I have had a girl crush on Tyra Banks (also my favourite model). She represents the same brand as I do "love and care for the body your mama gave you" she has natural curves and proved that you don't need to be fake to be stunning! I hope I can walk in her footsteps. 
Recommend us a movie.
Melanie: I would recommend "The bird cage" because no matter how many times I watch that movie I still laugh every 2 seconds and I just think we need to have more fun with life and laugh more!
How about a song? 
Melanie: For a song a choose a relatively famous aussie DJ's mix of an aussie hip hip group's song. So here is the link to Hermitude – Hyperparadise (Flume Remix)

Why did the chicken cross the road?
Melanie: Because staying on the same side of the road forever is something a lonely, unadventurous and boring chicken would do! This one was way cooler.
What makes a man smart?
Melanie: Not being too cocky, knowing that starting fights isn't a solution to everything and having something to talk about other than themselves and their "huge" muscles….eww.
Where can your fans follow you? 
Melanie: I have a facebook page which is still new but growing quickly –  https://www.facebook.com/melanieraimundomodel