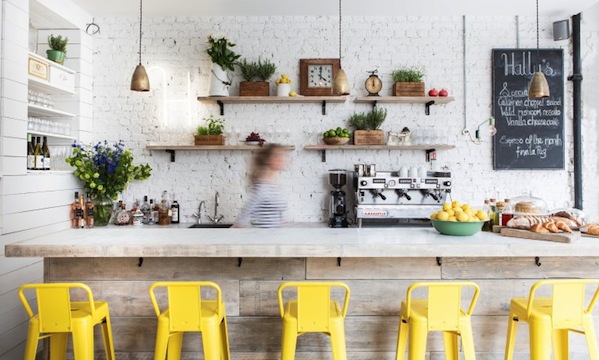 If you're travelling to London in the near future, you definitely shouldn't miss the opportunity of visiting one of the prettiest restaurants you can find out there. I'm talking about Hally's, a sweet place in Parsons Green.
What's so special about it ? – you might ask. Well, we all know that the weather in the United Kingdom is kind of depressing, if you're not born and raised in Seattle. If so, the minute you'll step in Hally's, you'll feel like you're not in London any more, but in a sunny, warm place that will surely change your mood or at least bring a smile on your face with its cuteness.

[adsense300gray]A London-based design firm, Alexander Waterworth Interiors, takes the credit for making this place feel so nice and cozy. Hally's interior design is inspired by Californian coffee-shops: this concept is going to make you feel like you just came from a walk on the beach to grab a snack, but you'll only be entering a place which "deceives" you into thinking you're being surrounded by sunlight and warmth. Kind of awesome, especially if you want to get away from that pesky rain (I don't know about you but rain depresses me, just like a veggie burger) and delight your eyes with some bright, pleasant colors that almost scream "summertime!".