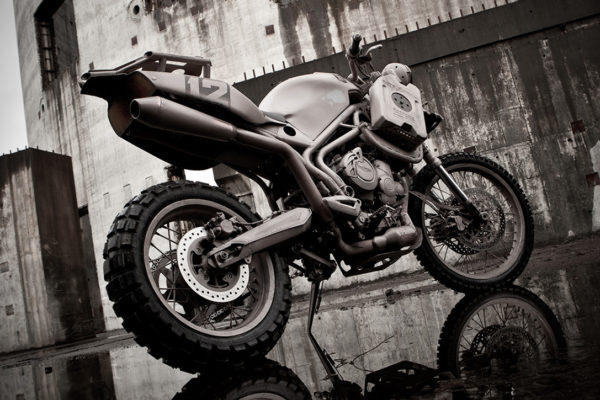 The Newest Bike for Your Collection
Military Style, Triumph Technology. This badass rebuild from the automotive shop Icon 1000 is the perfect getaway vehicle to snag when you need to jump a ramp through a flaming hoop away from space ninjas. All joke aside, this beautiful piece of automotive properly captures that military style that is all too easy to mess-up.
To put their own mark on this build, Icon removed the plastic body that is normally equipped on these bikes. Instead they've opted for a body of steel plates and cages to catch that true war rig look.  The technology in the bikes are largely built on the philosophy meant to both increase the power of the bike and make it lighter. This way the steel frame doesn't compromise the reputation that Triumph has made for itself over the past 114 years.
What's really cool about this bike comes from the model they chose to build off of. The Tiger 8oo series has been in production since 2011. More specifically in its series, there's both the 800, and the 800 XC. Now the XC is built differently then the 800, because the XC is meant to be more for off-road! Which means that this beauty of a machine can be as easily used to go check the cattle in the pasture about a mile away as it is to go buy groceries in town.
Icon is producing these bikes in Hinckley, England. As with any build, there's only a limited number of these available, grab one while you can!