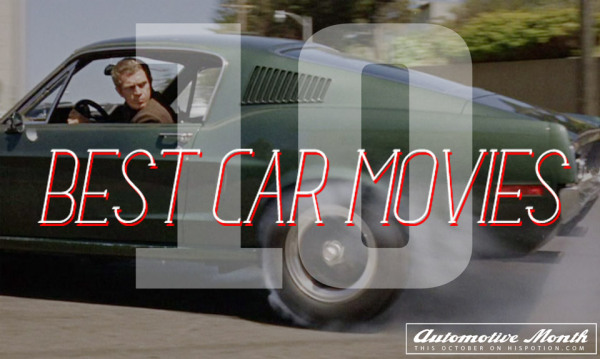 Can we imagine a world without cars? At a first glance, this seems a rather simple task and we are tempted to answer "yes, this would not be so difficult". But at a closer look, we can easily see that cars are so thoroughly imbued in our culture, that we can almost say that they are, if not some "floating signifiers", then, for sure, they have a crucial symbolic value, not just a mere utility meaning. And who else, better understood that, than the world of cinema. The world of cinema, of "simulacra and simulations", fully contributed to this symbolic capital that we are often investing in cars.
To make a long story short, we can conceive a first hand car-lacking reality, that's for sure, but we are facing some serious problems if we are told to imagine a world of Hollywood, deprived of its car related images. Cars are an integral part of the reality that Hollywood is carefully building. So, these having been said, let's blaze the lights to emblaze the path to our subjectively top ten best car movies. Be aware that the order is purely aleatory, though it is a fact that some movies are better than the others.
Bullitt (1968)
Beside that Bullitt is, overall, a very good movie, and this is proven by the fact that it holds a 97% "Fresh" rating on Rotten Tomatoes, among other achievements, and being a milestone in Steve McQueen's (that is, the ultimate "King of Cool") career, Bullitt has become a classic movie due to one of the most famous car chasing scenes. The scene, in which a loner detective (played by McQueen) in a Ford Mustang is chasing the bad guys in a Dodge Charger, starts at a slow pace, more of a cat-and-mouse game, and then is evolving into a high-speed pursuit on city streets of San Francisco. Moreover, the car chasing scene from Bullitt is also famous for it's point of view filming from the McQueen's car.
The French Connection (1971)
What we have here is fai… oh, wait, this line is from another movie. So, The French Connection is present in our top ten car movies, like his next of kin, Bullitt, due to the no less famous car chasing scene. The idea behind the scene was to top the one in Bullitt. And how can you achieve that? Well, you take an established movie star, Gene Hackman, put him in a Pontiac LeMans 1971, and then make him go wildly through some NY crowded streets, filled with innocent people, chasing, not another car, but a…train.
[adsense300mid]
The Italian Job (1969)
Another classic movie which gained a cult status because of it's depiction of the then New Britain. And I'm not talking here about the 2003 remake, but of the 1969 original. A quintessential movie for what was the height of a chic era in Swinging London. And what would be more oppourtune to describe this atmosphere, if not an optimistic and cockney Michael Caine, wandering around in a versatile Mini? Because Mini are indeed one of the most enduring symbols of the Swinging London.
Vanishing Point (1971)
If we had the Swinging London, then, in Vanishing Point, we are dealing with a post-Woodstock background, which introduces us in a psychedelic, trippy dream. After seeing this movie, we are left with an eclectic flavour which throws in the mix nudity, bad cops, beaten people, a blind black DJ, and on top of that Kowalski (maybe his Slavic/Polish name is not contigently picked) with his 1970 Dodge Challenger muscle-car. Kowalski is a landmark if we are talking about anti-heroes. And so is his relentless journey through the desert, accompanied by his all too faithful Dodge Challenger.
Duel (1971)
The link between Vanishing Point and Duel is the dessert. In Duel, David Mann, an electronics salesman, is probably used to live a prudent, calculated, conformist life. He is travelling in his 1971 Plymouth Valiant sedan, through the Californian desert on a business trip. And then, all of a sudden, all hell breaks loose, when a psychotic truck driver in a 1955 Peterbilt 281 tanker is trying to kill the poor salesman, chasing him, droving him off the road. What is striking in Duel is that the bad guy is never seen…well, almost never seen, because to be fair enough, in one scene we can see his hand. And this hidden, invisible threat augments the thrill. It is almost as if we are watching a confrontation between man and a killing machine. Somehow, Duel prefigurates Jaws.
Christine (1983)
Christine is coming from the masters of horror, John Carpenter and Stephen King. If in Duel we had encountered an invisible threat, coming from a car, as though it had it's own soul (this impression was coming from the fact that we never see the face of the driver), then, in Christine, this transformation is complete. We are facing an anthropomorphic killer 1958 Plymouth Fury named Christine. What is special about this movie is that here, the car is not just some sort of inert object, whose sole purpose is to aide the central character but, on the contrary, the car IS the main character.
American Graffiti (1973)
Possibly the most influential coming-of-age, teen movie. Bridging the late 50's and the starting of the 60's, that is the rock'n'roll era and the British Invasion. It is a story which evokes a certain stage in American society, in which cars played an important role. Emily Badger, in her What Steamship and the Landline Can Tell Us About the Decline of the Private Car article, calls American Graffiti a "classic car flick" that "would never be made today".
[adsense300mid]
Senna (2010)
For a movie top it is somehow atypical to include a documentary. But Senna deserves all the credit, because it is a highly emotional, and unusual documentary. It contains no formal commentary, and no retrospective video interviews. Despite the fact that these ordinary features of a documentary are missing, Senna is a compelling, heartbreaking movie which depicts his rivalry with Prost, his struggles with the FISA boss, Jean-Marie Balestre ("Formula One is too much money, too much politics", says Senna), and insights about how Senna really was in his private life.
Rush (2013)
Another movie which has as a main subject race drivers. Rush is centered upon the rivalry between British pilot James Hunt and Austrian Niki Lauda. Its setting is the golden age of Formula One, and the two pilots are presented against one another: Hunt, a good-looking, full of charisma, impulsive, and instinctual guy, and Lauda, a methodical, calculated, cold-blooded driver. Both drivers were willing to risk everything to become World Champions. All in all it is a movie about the competitiveness which seems to pertain to human nature, and the words of Lauda about the film are eloquent: "When I saw it the first time I was impressed. There was no Hollywood changes or things changed a little bit Hollywood-like. It is very accurate. And this really surprised me very positively"
The Belgrade Phantom (2009)
This is our exotic entry. The battlefield is Belgrade, communist Yugoslavia in the year of 1979. And the combatants are the police and a mysterious driver in a stolen Porsche Tarta 911-s who manages to mock the force over ten nights in a row. His gestures become a real political dissent and he grows into a hero for thousands of people who support him. Great mix between documentary and fiction, because I forgot to tell you that this was a real event.