Packing light is a must when heading into the wilderness. Yet, no man should attend such an adventure without a proper source of potent, aromatic, fresh coffee. Forget about wine, when you´re up there all by yourself, hot coffee becomes the real beverage of gods.
So, how do you get to brew fresh coffee on a mountain peak, without putting a strain on your back?
Snow Peak Coffee press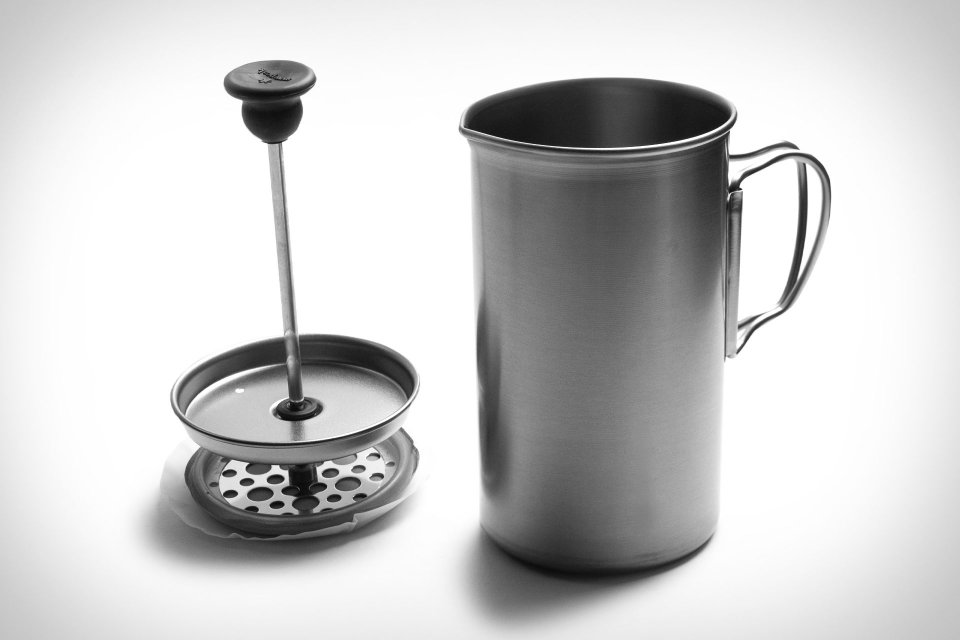 The rugged titanium case of the Snow Peak french press ensure you won´t be left without coffee because of a sudden bump or hit. It will also masterfully face the elements trying to separate the fulfilling potion from your side.
Thanks to its single walled construction and added markers, one can measure and boil in the same recipient. The built-in screen and lid does a tremendous job filtering the grounds from the brew. At 5.5¨ tall and 3¨ wide, the press will fit in almost any mountaineer´s backpack without much hassle.
Since it´s single walled in order to save some weight, it´s advisable not to drink directly from the press, unless you really don´t care about your lips. Burn marks and cold weather don´t match well, believe me.
Unlike most home-use french presses, the Snow Peak uses a nylon filter for the screen. While the press and the cap are made from titanium, the rest of the elements are likely made of aluminum. While titanium boasts its Rockwell toughness and makes wonder how a tinfoil won´t bend at the full strength of your hands, it still is an expensive material and doesn´t do a good job keeping heat inside.
Conclusion
The Snow Peak Titanium French Press does a good job bringing flavoured coffee to otherwise inaccessible areas for fancy coffee shops. The Titanium shell keeps the package together in harsh conditions as well as maintaining a healthy weight budget in your backpack. There´s enough room to brew coffee for two people and for $55.95 it´s quite the steal.