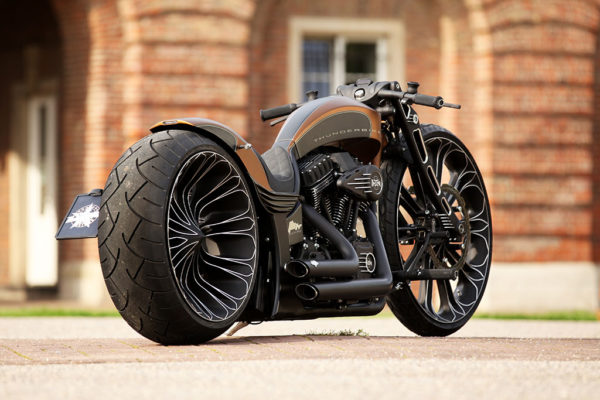 When it comes to engines, there's no better way to get to an eargasmic and eyegasmic view of a beast than combining the style of the classic with the power and comfort of the modern. These passionate men from Thunderbike Germany have offered collectible rides that pleased the eye for extended periods of time. Marvels nonetheless, with long lines and well defined curves, these custom bikes are definitely on every man's bucket list.
[adsense300gray]
This time we are talking about the Production-R custom bike. It has been crafted using the hand made framekit released by Thunderbike in 2014. It looks like it pumped on the gym quite hard, without the frills and with the Harley Davidson Screamin Eagle Twin Cam 110 engine. Height is adjustable using air-ride suspension system, making it run on the street as smooth as you would expect, not even mentioning the aesthetics. Low fashion goes well on bikes, too. The front fork, built on a small series for original Harley Davidson bikes, gives extra style; as if it actually required any.
A fan of the brand might be concerned about the availability of service support around the world. However, this is something not needed to be worried about, as both the engine and transmission are both built under the Harley Davidson brand. The Production-R isn't custom just in name, but also when it comes to wheels. The rear 21′ wheel was built in collaboration with Pirelli in order to get a custom 260/35/21 tire, while the front tire measures 26".
Overall, you are looking at a mechanical and design masterpiece. Not available on production series but only as custom order, this two-wheeled monster would make the Vagos biker gang hunt you down.
[photomosaic]