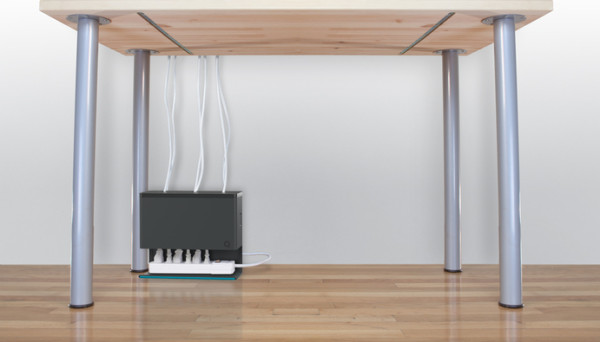 If you're a neat freak like us (or just don't like fire hazards and tripping over cables all that much), then this little box is the perfect thing for decluttering your workspace. With spring cleaning in mind, tidying up all the loose ends and cables lying around in an electric death-maze around your home seems like a good alternative to dusting and vacuuming. Hey, at least the effects of this will last longer than the three days it will take for the dust to settle back on those shelves.
Features:
–  three openings on the top of the unit direct your cords neatly to your power strip.
– three integrated cord anchors let you wrap up and hide longer cords.
– you can sit it on its rubber bottom or on its back, or even mount it to a wall.
– it's made from rigid plastic with a rubber "foot" on the bottom.
– color: charcoal, with a light blue base.
Product dimensions:
3.5in x 10.5in x 9.5in