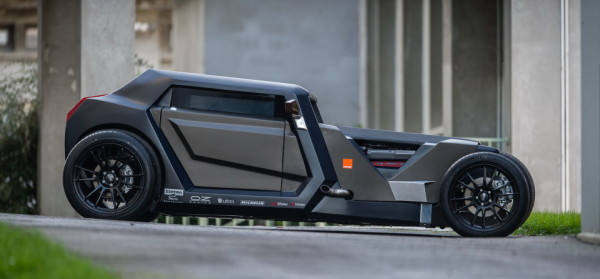 Filled with numerous sharp edges and alien-like angles, the Sbarro Eight hotrod concept resulted from the third collaboration between the Orange group and Sbarro automotive manufacturer. There were two projects undertaken by the students of ESPERA Sbarro Montbéliard. First, there is the fully electric car called Intencity that didn't quite please engine-savyy guys, and the Eight concept that we are talking about now.
Although it took only 40 days to build up this car, it is a real monster from all points of view. The chassis combines hotord design with paint and design elements as those from stealth bombers. Under the hood, there's a raging 3.2 liter twin turbo Masserati V8 engine that pushes no less than 368 BHP towards the wheels. Custom side exhausts are directly attached to the turbos and a quite a bit of unburnt fuel is guaranteed to blow out flames when you step on the gas pedal.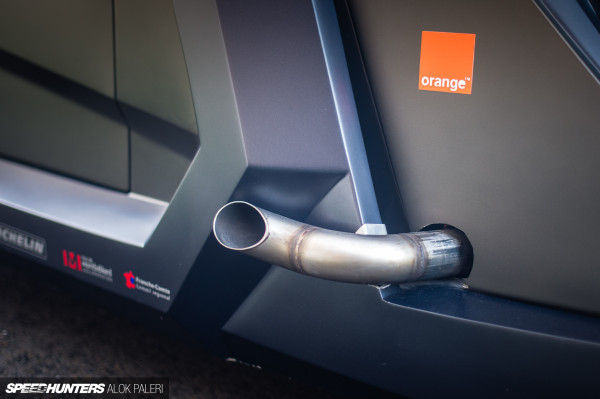 The Sbarro Eight runs with OZ Racing Ultraleggera rims, bigger on the back wheels than the front, complimented with Michelin Pilot Sports tyres on the front wheels and    Bridgestone Potenza RE050As on the rear (drive) wheels. While Michelin tyres were wished for at first, the producer couldn't supply them in time for the Paris automotive show in 2012. However, even after that, decision was made to keep Bridgestones for the rear wheels; they are the same ones that go on the Ferrari 599 GTB Fiorano.
[adsense300gray]While the outside looks and feels like a spaceship, the interior tells a totally different story. Real wood insertions and leather details really provide the scent of a vintage ride. Seats arecustom built from fiber glass with manually sewn leather pieces. There aren't many isolation elements in the Sbarro Eight concept; side windows and windshield built from strong plexiglass are mainly the only things to protect from the air current and the engine roar. Don't worry; you will still hear and feel every tiny bit of that Twin Turbo V8.
The wheel is custom made and features leather coverage for the outer part, while the 8 ball sits in the middle as branding element. Among all classic car design elements, we can still find a Parrot Asteroid Smart car radio with a 6.2 inch screen with Bluetooth and auxilliary inputs.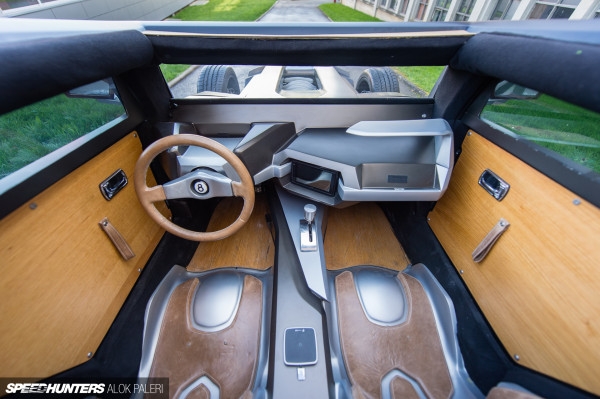 In the end, it's easy to understand why the Eight concept really catches the eye of automotive junkies; it looks terrific and it holds horsepower. It is such a shame that this beauty can't be driven on public roads.
[photomosaic]