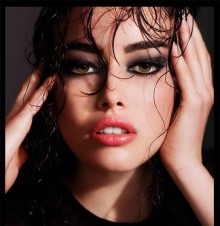 As I type, I'm listening to The Animals – House of the Rising Sun – it's Sara's favorite song, or so she states on her modelfeed page. She's also having a good time listening to Kings of Leon, Yann Tiersen, Franz Ferdinand and La Roux, but her favorite music doesn't end with those. She must be cool, I think to my self – but of course she is, she's an international model after all , most of them are.
Yes, Sarah Stephens is a model, from Australia but currently living in New York. She's 21 years old and she likes to read. Books that is – now I know she is cool smart, and I like smart. Everybody likes smart beautiful women! She just finished reading You Deserve Nothing by Alexander Maksik – it's a brilliantly written, captivating tale about students and teachers, and Sarah recommends it.
Sarah's pretty active online, and you can stalk her on twitter @Stephens_Sarah. I'm sure you will, after watching the photos in the gallery below.
I know I am, but maybe not all of you are into tall, pale-skinned beauties. Either way, no man can resist the irresistible charm Sarah's exhaling. See for yourself.