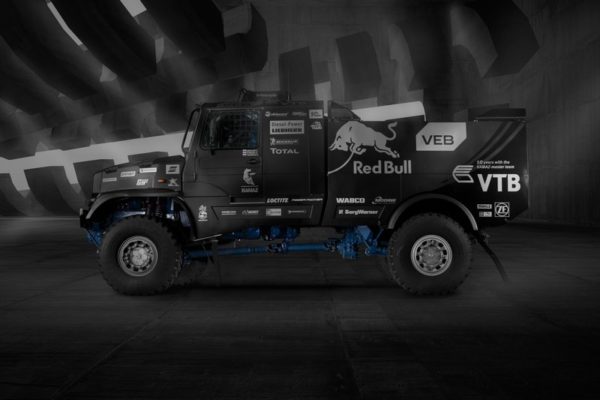 Kamaz Master of the 2016 Dakar Rally
One of the most challenging automotive competitions in the world, the Dakar rally takes the best vehicles and pilots and properly tests their limits. From Paris to Dakar or through South America, thousands of kilometers are covered by endurance machines, running between 800 and a 1000 km each day. Russia is renowned for its die-hard cars and Dakar is the perfect opportunity to showcase such an example.
Present also in the previous editions of Dakar Rally, team Kamaz did a delightful teaser on their latest rally truck, called Kamaz Master. Bearing Red Bull branding all over the chassis, this year's rendition is completely different from the previous version (you can check both of them below).
A gianormous 12.8 liter, 890 hp engine powers the beast, sending power and torque to the wheels through a 16-speed gearbox able to push the truck forward at 160 km/h. While it may not seem a lot, remember that Dakar rally happens through the desert; no tarmac there to aid grip. Completing the huge power output with RedBull's stealth livery, Kamaz Master looks mean and ready to rip through its competitors.
While they managed "just" the second place in Dakar's last edition, the russians are back and confident they'll get the title this time. The rig is done, drivers have the proper mindset – we can't wait to see how it all develops. Check out the teaser of Kamaz Master below.