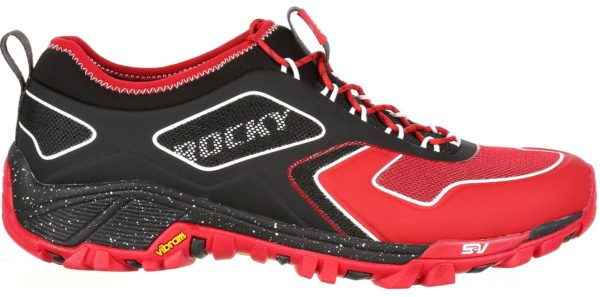 Bring on the trail!
There is nothing wrong with enjoying a run through dirty mountain slopes – it's actually quite awesome and fun. However, you need to make sure you're fitted with the right kind of equipment for this kind of event. Potential injuries happening in secluded areas don't only suck, but might pose a threat to your life, especially when running alone. A great pair of trail running shoes does wonders for your performance.
The Rocky 2SV Trail Runner shoe packs quite a punch of technology to provide a comfortable experience while keeping a stable base and damage proof construction. Built in a red and black iteration, the silhouette boasts neoprene and mesh for the upper. It all rests over a dual density Vibram outsole and adds compression fit technology, keeping the foot in one place while running.
The thread is designed to work with any type of terrain, offering high grip while the external TPU arch support prevents any unwanted twisting or bending of the foot. It is recommended to acquire a size that's 1/2 larger than your normal fit, in order to fully benefit from the compression fit technology.