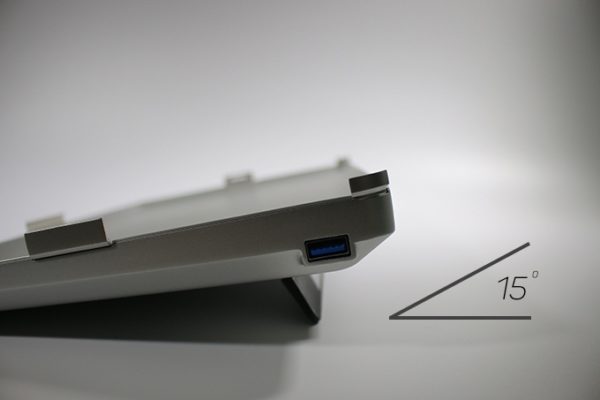 Reliable MacBook Docking Station
Macs are slim, boast a lightweight design and are pleasing to carry around. Combine that with some high performance components and you get a great office and multimedia machine. The price is great as well, but not in a good way. However, there are some hardware limitations that were imposed by Apple in order to obtain that streamlined, lightweight design: a rather small capacity SSD, no Ethernet port or expansion slot.
Fortunately, Kickstarter project Plusbook aims to solve these issues with a portable but heavy duty docking station. Plusbook comes with a 5TB storage unit – 4TB HDD and up to 1TB m-SATA SSD unit. Among huge storage space, the docking station also offers a high quality audio DAC with a 3.5mm and RCA ports, a Gigabit wired LAN port and three USB 3.0 ports.
A 10.000 mAh battery is fit inside the docking station, allowing your MacBook to extend autonomy but also provide other Apple gadgets with charging capabilities through a 5V/2A output port. The case of Plusbook is entirely made from quality aluminum, offering decent heat dissipation without a cooling fan. And ergonomic kickstand boosts airflow for even better cooling.
Plusbook is compatible with Air 13, Pro Retina 13 and Pro Retina 15 Macs built between 2012 and 2015. Connection to the docking station is achieved through a slim connector, leaving out the need for cables. An USB cable can be used to connect Plusbook to a Windows computer in order to transfer files stored in the 4TB hard drive.