The holidays are around the corner. Looking for an awesome present for somebody interested in cinematography or just want to own an awesome piece of Hollywood history? Well you're in the right place, because I think this is probably as awesome as it gets. Three young guys in New York salvaged the original 35mm film reels from some classic movies and put them to good use.
They embedded the film cells (scenes) onto a glass candle. Lighting the candle behind the cell makes it look like the movie has come to life and is airing again. Just for you. The colors of the scenes are vivid and inspiring.
Star Wars (1977)
Star Wars is hands down our go-to childhood movie. Many a group of people filled the old movie houses to watch it. It was so successful that it actually reached the 7th episode. The film cell that you can get embedded on your candle has ran through a projector and showed on the silver screen of a cinema, being enjoyed by lotsof people.
Charlie Chaplin – The Gold Rush (1925)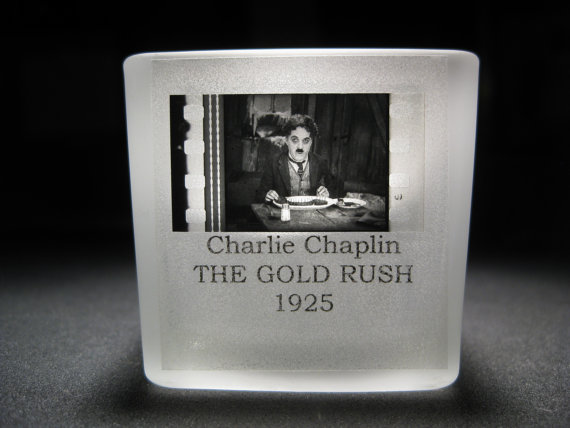 Charlie Chaplin is on totally another level when it comes to acting skills. Because of his amazing talent, he never shot movies with sound. He brought emotion to the viewer only through facial expressions and gestures, and he did that well. He is probably the best comedy actor ever and will always remain an example for all new actors. A 1/24th of a second from one of his movies that would have been thrown away is a good way to pay tribute to what he has done for the movie industry. Respect.
Scarface (1983)
"Say Hello To My Little Friend". Probably every person living on Earth has heard of this expression, said by Tony (featured by Al Pacino) in Scarface. Well, you can get Al Pacino's "little friend" embedded on a candle and bring some light to your living room.