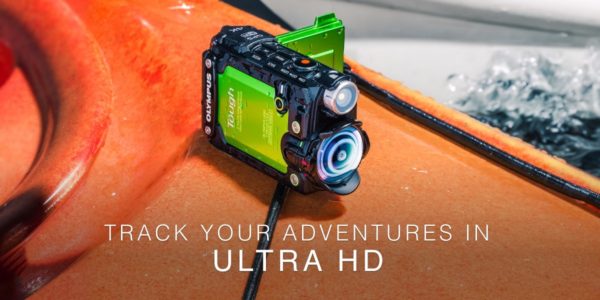 TG-Tracker For Rugged Outdoors
Built for the adventure-seeker type of man, Olympus pushes the already-overcrowded action camera market segment with Tough TG-Tracker. Thankfully, it doesn't just look rugged and ready, it actually is. While it fits in your pocket, it delivers 4K video and photo quality. The 204° extreme angle and F2.0 high-speed lens ensure every bit of your adventure will be properly recorded; no missing frames.
The camera can withstand dust, water submersion, and remains intact even when dropped from 2 meters high. It works down to -10 degrees Celsius and copes with 100 kgf of pressure applied. In other words, it won't give a damn about you casually dropping it off or stepping over it.
TG-Tracker comes with integrated wi-fi capabilities as well as gps and e.compass functionality. It allows users to stream videos directly to a third party device through the OI.Share app. Unfortunately, the app only works for SD, HD and FullHD media; 4K can only be transferred by wire.
The 60 lumen LED headlight accompanied by a 5-axis electronic stabilization system allow for clear shots even in low-light conditions, avoiding blurry videos and photos. TG-Tracker can record for 29 minutes or 4GB. If there is still free memory after 29 minutes of recording, a new recording will automatically start.