Introduction to Montblanc – The icon of Luxury Pens
When thinking of leading manufacturers of luxury pens, the Montblanc brand immediately comes to mind. Montblanc is a global leader in luxury writing utensils, having nearly a century since it started to operate. The brand diversified its services into other areas of the luxury goods as well over these years, from luxury pens to watches, leather goods, card holders and other accessories.
Name and Logo – symbol of the highest quality of writing instruments and luxury pens
Although Montblanc is a German brand, its French name means "white mountain", representing the Mont Blanc mountain massif (the tallest in Europe) located in the Alps. This actually refers to the brand's commitment to the highest quality of European craftsmanship.
The white rounded six-pointed star of the logo refers to the snow peak of Mont Blanc as well, instantly recognisable all over the world. Many consider the Montblanc logo as a great example of modern minimalist visual identity design, even though it hasn't been changed much since its creation date in 1913.
History – from high qualitative writing instruments to luxury pens
Montblanc's story began in 1906 when a Berlin designer named August Eberstein, together with a Hamburg banker, Alfred Nehemias, developed a range of simple-to-use fountain luxury pens. Soon their company was taken over by the three men who together started to develop what we know today as Montblanc: Whilhelm Dziambor, Christian Lausen and Claus Johannes Voss, producing some of the most expensive pens at the time.
It appears that the name Montbalnc appeared in 1909 during a card game. Until then, the company was already well known for its luxury pens, however as "Simplo Filler Pen Co.". While the Montblanc trademark was registered in 1910, the iconic logo became official in 1913.
The iconic Meisterstück – one of the best luxury pens as many say
Considered by many one of the best pens in the world, Meisterstück was launched in 1924, followed by the 149 Montblanc fountain luxury pen model which soon became an icon of its time. By the end of 1920s Montblanc was already known in more than 60 countries. This was also a result of some revolutionary advertising methods such as: fitting cars with oversized fountain pens and commissioning the first advertising planes.
In 1929, the Meisterstück nib was engraved with "4810", referring to the height of Mont Blanc (4810 metres), a practice which is well kept even today.
Post-war success
Between 1935 and 1963 Montblanc also started to produce branded leather pen pouches, notebooks, and writing cases. The Meisterstück continued going strong, President Kennedy himself becoming a Meisterstück 149 holder as well.
The eighties and nineties boomed Montblanc which continued to grow globally. The most important achievement was reached in 1994, when Meisterstück Solitaire Royal became the world's most expensive pen. This extraordinary model had no less than 4810 diamonds, representing the Mont Blanc mountain's height once again.
From 2000 to today
The first major collection of luxury pens, Boheme, was launched in 2000, while in 2003 a StarWalker pen collection was launched for a younger audience.
A century of Montablac was celebrated in 2006. The brand released an anniversary edition called Montblanc Diamond, a result of eight years of research and development. This was an unprecedented move, as the diamond cut was also patented.
Why are Montblanc the most expensive pens? Facts about these iconic writing utensils.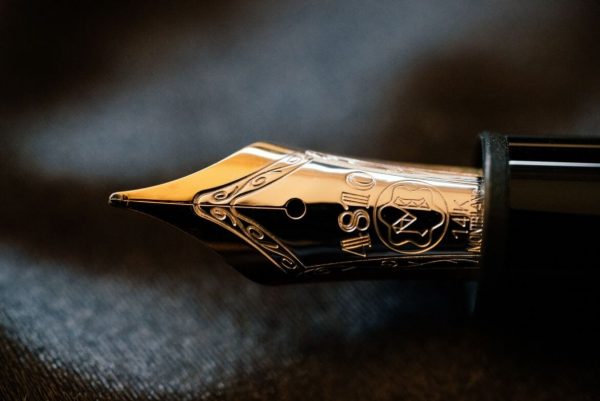 Montblancs are not just luxury pens, but the best pens in the world as many consider when it comes to writing instruments.
A handwriting test is being given to each Montblanc Meisterstück nib by a trained craftsman.
Solid gold (14 to 18-carat) is being used for all Montblanc Meisterstück nibs. This guarantees an unchanging form while remaining elastic and flexible.
Each Montblanc Meisterstück nib has a tip made of iridium, a material which is rarer than gold or platinum. The brand considers that the nib would be too soft if it was made of gold.
All Montblanc Meisterstück have their own identity. Each pen is engraved with a tiny individual series number on the clip ring. This is known as a "Quo Vadis" or "Where are you going?".
Montblanc and UNICEF. Since 2004, over 149 celebrities have written a letter, starting with the words "I like to write because…". The letters together with the Montblanc writing instruments engraved with each celebrity's signature were then put up for action. The funds were then donated to UNICEF.
Montblanc has experts who can provide nib services in selected boutiques. They can analyse individual handwriting and determine the one nib that will suit your writing style. The special nib can then be created by Montblanc's master craftsmen as a customised commission.
Montblanc's philosophy as stated on their official website: "The Montblanc creators put their soul into actively composing pieces that embrace and symbolise the values that shape Montblanc as a brand".
Montblanc – a state of mind in a luxury pen
A Montblanc pen is not for everyone. Not only because it's one of the most expensive pens, but also because it represents a state of mind. Only a few people understand its story, its philosophy and feeling.
In an interview given to Forbes in 2013, the Montblanc CEO at the time mentioned: "What luxury is, is naturally a very personal perception. For me, luxury products are a promise. A promise that the product you buy from Montblanc is of highest esteem, based on its timeless, elegant design and the high quality, which is derived from the excellence of our craftsmen. It's a promise that you will still love the product in 10, 20 or 30 years, like in many times where you received a Montblanc item as a gift, you still will appreciate and love the person who gave it to you to show how much this person respects, appreciates or loves you".