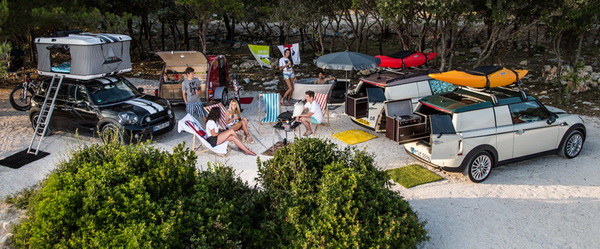 You wouldn't normally think a Mini could be combined with any sort of camping contraption… but hey, what's normal these days, right?! Reactions to Mini's newly released concept range from "no, thank you, I'm better off in a tent" to "that looks cool".
There are three getaway concepts that the BMW owned marque is showcasing, each with its certain utilitarian aspect.
Firstly, Mini features the Clubvan Camper, which we would say is the most natural extension to the classic Mini design. Unfortunately, it's made for only one person, so it most likely suits a driver that takes long trips by himself. The Clubvan incorporates a bed, a refrigerator and a propane stove. The element of surprise is the handheld shower that draws water from a tank placed under the loading floor. Additionally, when the nights get chilly you can hang out by the heater, watching your favorite shows on television (!).
Taking into account potential reactions from the more claustrophobic among us, Mini also unveiled a more traditional way of camping, with the Cowley model that includes an attached trailer comprising two sleeping berths and other camping equipment that you might need. Similar to the Clubvan, inside the trailer you'll find a small kitchen, a gas-stove, a television and a stereo system. And if you need outlets for your devices, they're there, at your disposal.
Finally, probably the sexiest of the bunch is the Countryman ALL4 Camp. It screams adventure, and with it's more aggressive design and all-wheel drive, it practically invites you to get away for a weekend in the country side or the mountains. The attached rooftop tent provides enough space not only for rest, but also for storing some of your necessities. A sliding ladder allows access to the rooftop.
Giving its distinct look, Mini already has a large enough and eccentric fan base to consider these three additions suitable for their personalities. I would say that I'm curious about the prices, but in all honesty, Minis have always been on the expensive side, affordable for a few lucky ones, and these models probably won't be an exception.