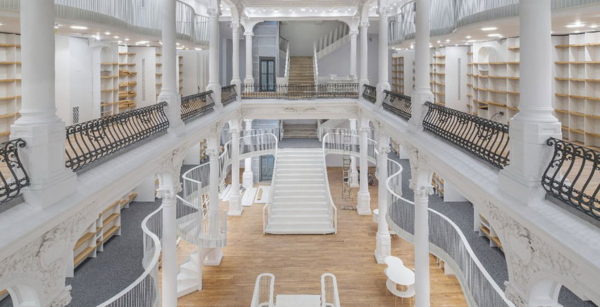 Hi there bibliophiles! This post is for you! And also for those who are mad about architecture or interior design! Oh, and let's not forget those who want to visit places offering new and interesting experiences!
Recently the biggest and most beautiful bookstore in Romania was opened. Located in the historical center of Bucharest, Carturesti Carusel bookstore is so big that you might regard is as a museum. Once you entered the former  Chrissoveloni palace, you'll feel like you stepped into a magic realm of books! If you have the opportunity to visit it, we dare you to go to the last floor and watch what happens below you…this will give you the impression of being in a carousel (if it isn't obvious enough – carusel is Romanian for carousel). Or you may like to look up to the glass ceiling!
[adsense300gray]
Carturesti is a "concept store" which functions as a library and as a cultural agent. The Carturesti bookstore network was launched in the year 2000 and has been expanding ever since. Currently, the Carturesti chain includes 16 concept-libraries with the same name, in Bucharest and other Romanian cities.
In order to look this way, the builder didn't changed the existing architecture, as explained by Adrian Cancer, representing architecture firm Square One, which dealt with the restoration of the building:
"Basically, the concept takes into account the existing architecture and the absolute star of a retail market, the product. It is basically an adaptation of the existing space. We took the structural elements and created an architectural element adding two additional levels to the existing architectural around"
With a total area of 1000 square meters, this six-floored architectural jewel hosts over 10.000 volumes… But don't imagine that these are to visible, the space is arranged in such a way that you forget where you really are!
With a bistro on the top floor, a multimedia space in the basement and a contemporary art exhibition at the first floor, this bookstore is ready to tell a new story – Carturesti Carusel is an updated version of the traditional bookstore. Furthermore, it promises to be a major tourist attraction and, for this purpose it will provide them vital information about Bucharest and Romania!
"Absolutely everything you see here is manufactured, there is nothing bought. Everything is made, designed – from a concept to execution, implementation –  in the shops we work with. We have bought nothing. It is a 100% Romanian brand and is 100% Romanian execution" said Adrian Cancer.
So, if you're planning to visit Bucharest make sure you put Carturesti Carusel on your to visit list! It will surely amaze you!
[photomosaic]