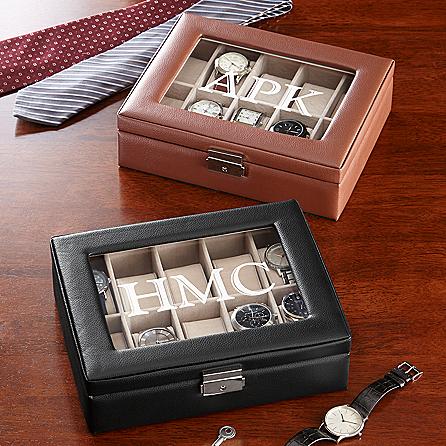 The Leather Watch Box
Are you a collector of valued time pieces? Do you wind each watch up with meticulous purpose every morning, even though you may only wear one at a time? Or do you happen to fall into the same category of those who multiple watches all at once? If you happen to fall into the first category, and need a valued place to keep all your watches or know someone who does, you should consider this as a solution! The Leather Watch Box, located on Personalcreations.com is strongly recommended by it's users, providing a handsome storage location for the time pieces you or your friend value so much.
The leather comes in either a darkened black or a handsome brown that stand out nicely. With up to ten compartments for storing those gorgeous watches and the faux suede lining, it provides a nice location for you time pieces, and honestly makes your collection glimmer even brighter. As an added sense of security, it has a keylock security system. As a collector, keeping your collection safe is a top priority. So the key is a unique coded to your box, just to make sure that no one in their right mind will try and brake into your box.
As an added benefit, and to help personalize the box, the glass top can be ingrained with your Initials. The laser used to ingrain the boxes are able to fill in those letters, putting the final note on a box that has already been dedicated to showing off your collection as it stands now!