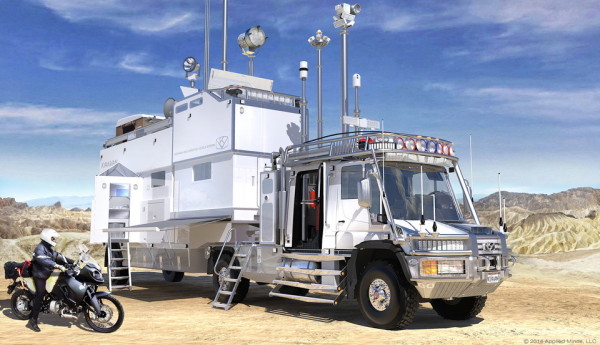 Kiravan is an exploration vehicle, built to handle any kind of terrain and weather conditions and without a doubt, it looks out of this world. Why would someone need such a beast, you ask? The idea behind it is, in fact, quite lovely.
Its creator, Bran Ferren, is an inventor and a former head of research and development, with many decades and world-renowned clients behind him to prove his skills. Now in his 60's, he is the co-founder and chief creative officer at Applied Minds, working for companies such as Intel, General Motors and even the US Army. For a busy guy like Bran, having a kid was never a primary focus, until 4 years ago, when he was faced with a "now or never" moment. It was then when the future of his father-daughter relationship dawned on him and began building the world's most insane RV, in which himself and his family, now including young Kira, could explore the vast unknown.
[adsense300gray]Four years in the making, the vehicle is not quite ready yet, but so far the result matches the plan that Bran Ferren had posted online. The alien-looking RV is made to travel up to 2,000 miles without resupplying and the Kevlar reinforced tires allow it to traverse any rocky area and even mud-swamped roads. Also, it can navigate slopes as steep as 45-degrees due to a special suspension system, while the inside is compact enough to withstand any turbulence.
The KiraVan is equipped with a custom-designed upscale kitchen and a dining area, an ecofriendly bathroom and a "penthouse" loft that Kira helped design. If you're wondering, the trailer is 31 feet long and more than 10 feet high, to which you add antennas and satellite dishes for enhancing communication when the family is in the middle of nowhere. The cockpit resembles a spaceship, as there are more than a dozen interlocking communication systems, countless buttons, displays, 22 cameras and an infrared thermal imagery system which offers data about road temperature. Additionally, there are two computers used to check and control any element of the vehicle, with a remarkably complex dashboard.
Ferren says he only wants to allow Kira to explore the world, the way his parents pushed him to do when he was young, but when you have this kind of money on hand, that task becomes a bit easier. The price of the van has not been divulged, but by looking at it – the technology involved and the materials used – you get a sense that its uniqueness is bound to cost a few serious million.
[photomosaic]