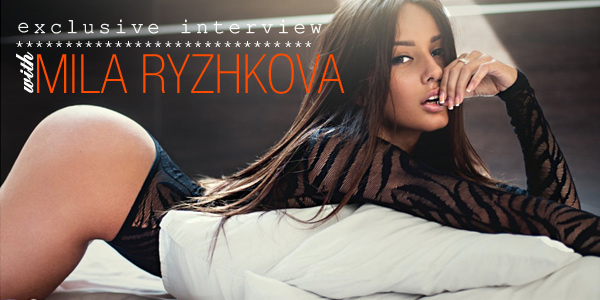 Mila Ryzhkova, yet another sensation to take tumblr blogs by storm. She is only 18 years old but the future seems bright for her, imagine all those camera flashes. Beside her over-appealing sexiness, we tried to find out more about Mila. Here's a very short interview followed by a photo gallery you'll not easily forget.

[adsense300gray]Hello Mila,
Who are some of the big sites/magazines you've modeled for?
Mila Ryzhkova: Just for you!
Well, we feel honoured!
What do you wear to sleep?
Mila Ryzhkova: I sleep in a bathrobe. It is very convenient.
I bet it is, thank you for the image!
Game of Thrones or Walking Dead?
Mila: Walking dead.
If you were to buy a present for him, what would you chose from HisPotion.com ?
Mila: Cacoon, The Hangout Chillout Space or Cliff Cabana – The Hanging Tent
Zombies or vampires?
Mila: Only vampires
Have I showed you how big my canine teeth are?
Do you have a favourite model?
Mila: Yes, of course. Izabel Goulart
Tell me one of the weirdest stories from your modelling life?
Mila: This one time I took a photo shoot on the roof, and as soon as we finished shooting and went to the door to open it and go down, it was locked! Nobody told us that every evening to morning they close the door to the roof. We had no choice (me and the photographer) and we stayed on the roof until the morning of the next day!
Sounds like a lot of fun.
What do you expect from others?
Mila: Something new
Why did the chicken cross the road?
Mila: Because the chicken is not so smart