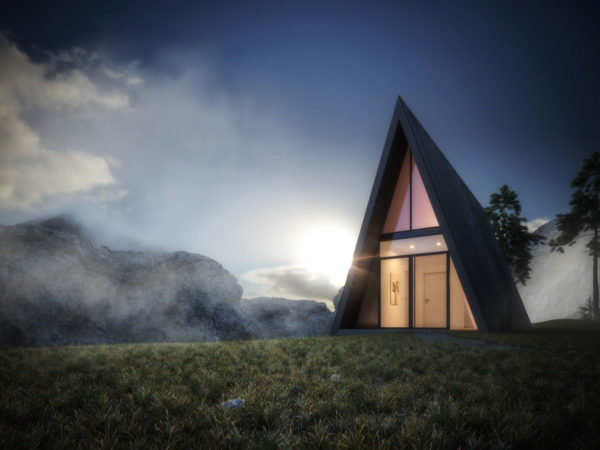 Every once in awhile all of us get a desire to leave the urban environment and relocate to a secluded place in nature. Because the busyness of the city can sometimes be too much, we all need to recharge our batteries and breathe in the clean air. Maybe find a small house with a good view that is not too far away and go there on the weekends.
An architect from Hamburg, Germany has come up with a design for an amazing A-shaped house that can sit on an edge of a cliff. It has unobstructed views on both sides of the long walls and the main room gets flooded with sunlight every day. Just imagine how lovely it would be to drink your morning coffee there.
A small terrace on the cliff side of the house allows you to stand on the very edge and enjoy the sensation of the depths below you and feel the wind on your skin.
The main room downstairs serves as a living room and a kitchen and it has all the things you could need to enjoy your stay in it. And on the second floor of the house you have the bedroom and the bathroom. It is simple but very functional and modern.
The A-shape gives it the air of elegance and still allows it to blend in with the surrounding nature. It seems as if the house was meant to stand in that very place. The black colour of the walls matches the tree trunks and goes wonderfully with the deep green that is everywhere around the house.
It is certainly the time for us to consider building housing like this, that works with the natural world and not against it.