Ah, December – the month of the black tie socials.
It's that time of year again. The days are getting shorter, the weather is getting colder and the party invites are starting to roll in.
Like a lot of men today, if you're lucky enough to receive an invitation to a classy black tie event, you may not know exactly what to wear, how to wear it and what exactly is going to make you stand out. Sound familiar?
Although initially a black tie invite may feel a little…intimidating, they're not as daunting as they may seem.
---
 "To attain style in dress, you must look perfectly happy and relaxed in your clothes which must appear part of you rather than a wardrobe you have just donned."

– Hardy Amies
---
A black tie event is a formal evening that dates back hundreds of years and, in today's world, is the go-to dress code for formal social events. Certainly more formal than your average business event or party, you wouldn't get away with your day-to-day suit, so hang that back up until Monday, Gents.
There are several key components to perfecting the black tie dress code that we will explore together.
So, without further ado; The Essential Black Tie Guide.
The Bow Tie
---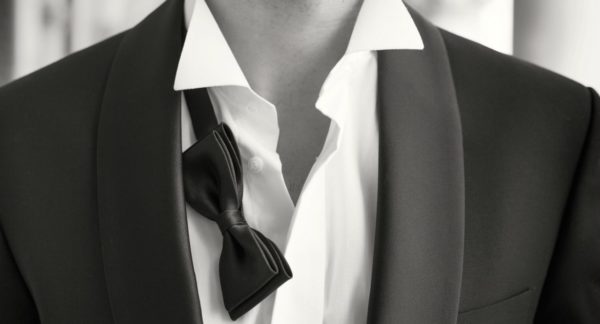 If you're like most men when envisioning a black tie event, the bow tie is the feature that first springs to mind. It may also be one of the most daunting. The bow tie is usually reserved for special occasions, unless you're a preppy professor, meaning that not many guys know much about them. Here are a couple of bow tie related rules you should abide by.
Know how to tie
If you don't know how to tie a bow tie, you can pick up one that's ready-tied, however, this means that you're not able to pull off the 'hanging around the neck at the end of a night' look that I know you all want.
This leaves us with two options:
Learn how to tie a bow tie. There are tonnes of instructional videos out there, including this one.
Keep an un-tied bow tie in your pocket for the end of the night to switch up when no-one is looking.
If you do decide to learn, and every man should, don't drive yourself crazy if you can't make it look perfect. No-one is going to berate you for this. A slightly off-centre bow tie adds character and personality to your outfit. It also proves you tied it yourself.
Choosing your bow tie
There are a variety of bow tie styles, colours and materials to choose from and the tie you go for can make or break your outfit. In regards to style, we recommend sticking to a semi-butterfly as demonstrated in the image above and below.
Matching your bow tie to the facing of your tux is a safe bet, and the norm, but if you feel like adding a bit more 'oomf' to your look, try adding different textures or colours – as long as you keep it classy.
Black Velvet Bow Tie by Turnbull & Asser – £75
The Black Tie Dinner Jacket
---

The Dinner Jacket, otherwise known as the tuxedo or tux, is the go to for any black tie event. There are a few distinct differences between a Dinner Jacket and your everyday suit jacket, such as the contrasting material of the lapel, which usually boasts a silk (or a similar) material. There is no absolute style of jacket to stick to, after all, it should complement your personal style. However, there are a few tips that should be noted before you begin piecing your suit together.
Stick to a black or midnight blue suit
The classic Dinner Jacket is traditionally worn in a black, or midnight blue, wool fabric. The only time you should wear a white jacket is if you're somewhere with a warm climate during summer, and even then you're pushing it.
Dress for your body shape
Like most clothing, a tuxdeo looks best when it fits your body perfectly. The last thing you want is to arrive at your black tie event either drowning in your suit or stretching out the seams. If you're able to, take your tux down to a tailor and make any adjustments necessary. It really does make a difference and you'll be glad you made the extra effort.
The pockets should be without flaps
You want your tuxedo to be as streamlined as possible. So no extra bits of material should be hanging from your torso.
If you're opting for a single breast jacket ensure it only has one button
The only time you should have more than one button on your jacket is when you're sporting a double-breasted number. Like the absence of the pocket flaps, the single buttom helps make the dinner jacket look sleek.
Try and avoid a Notch Lapel
The Notch is the common lapel that you'll find on most suit jackets. Nevertheless, many traditionalists do not look favourably on the notch in a black tie setting. It doesn't quite live up to the expected black tie formality and you may look, and feel, underdressed.
Look more muscular in a Peak Lapel
The Peak is the stylist's preferred style of lapel on a tux as it helps to emphasise the V-shape on your jacket making your frame look more athletic. If you're flying solo to your black tie event, this may be the dinner jacket for you.
Peak Lapel Dinner Tuxedo by Hugo Boss – £599 
Or up the class with a Shawl Lapel
The Shawl Lapel Dinner Jacket just shouts class and sophistication. This particular lapel was introduced in a Victorian Smoking Jacket as is usually regarded as more formal than its respected counterparts. As a favourite of Mr George Clooney and other similarly well-dressed gentlemen, you simply cannot go wrong with the classic Shawl.
Midnight Blue Shawl Tuxedo by Suit Supply – £349
If you have opted for a double-breasted, only the top button should be fastened when stood
As we have mentioned throughout, the elegance of the tux is enhanced by its ability to look streamlined and fit close to the body. Fastening both buttons on an already bulkier dinner jacket is going make you look rather stiff and uncomfortable.
Ludlow Double-Breasted Jacket by J Crew – £525
Unless you've caused an irremovable and extravagant stain,
do not

remove your jacket

The black tie event is a formal occasion, not a high-school prom. When you decide to strip down, your actions disrespect the hosts and diminish the experience for the rest of the guests.

An article by the Black Tie Guide states that, "formal attire is a skilfully integrated outfit, not a random assortment of individual pieces to be discarded at will. When you decide to strip down, your actions disrespect the hosts and diminish the experience for the rest of the guests."

We agree.
The Shoes
---
Patent leather dress shoes, of the Balmoral variety, are the preferred and traditional choice of shoe. It doesn't necessarily matter which style of dress shoe as long as they are well polished and don't possess too much detailing, like brogues or wing tips. The trick is to keep it simple, but shiny.
Derby Shoes by Hugo Boss – £270 
If you wish to dress with a little more style then you can always sport a pair of velvet slippers. Historically, only the host would wear such an item, but in recent years many stylists, such as Tom Ford, are beginning to swear by them. A lot of designers will now create custom embroidery if you really wanted to make a statement.
Velvet Slippers by Church – £210.
Selecting the finer details
---
The finishing touches to your tuxedo are what allow you to add some individuality and help you stand out from the sea of penguins to whom you'll be mingling. Let's take a look at some do's and don'ts to ensure your accessories work with you rather than against you.
Never, ever wear a belt with a tuxedo
This goes without saying, really. Adding a belt to your tuxedo will destroy any elegance or sophistication you've worked hard to attain, even on the most expensive suits. Most tuxedo trousers come with buttons for braces or side tabs, so make sure you use them. If you opt for the braces, there are buttons available for a reason. Do not wear clip ons unless you want to see how quickly you can ruin an outfit.
Albert Thurston Polka Dot Braces – £57
Add a silk scarf to make a bold statement
If you really want to go all out and outshine your fellow black tie attendees, accompany your tuxedo with a tasteful silk scarf. Now, the boldness of your statement is down to you and what you'd feel comfortable wearing. We recommend a dark, polka dot silk scarf that provides a subtle, yet classy, look.
Men's Black Silk-Cotton Scarf by Paul Smith – £75
Only wear a watch with a black strap or silver metal bracelet
You want to a sharp watch that is in keeping with the rest of the tuxedo. Anything too flashy will stand out for the wrong reasons. Opt for a minimal watch that will set the standard for the rest of the outfit and reinforce the classic look that you'll be wearing so well.
This watch by Vacheron Constantin Patrimony is perfect 
Finalise your tuxedo with studs and matching cufflinks
Most tuxedo shirts have specially designed stud holes located right next to the button. Most studs come with a set of matching cufflinks to add continuity to your outfit and typically come in silver that's inset with mother-of-pearl or onyx. Adding studs are a great way to stand out and show off that little extra class.
Mother of Peark & Onyx Studs by Thomas Pink – £115
Make sure you smell the part, too
Far too often we see, or smell, men who are splashing on the same aftershave they wear day in, day out. A black tie event is special and they don't come around as often as we'd like, so invest in your own signature scent. It should be something daring, sharp and prominent. A powerful cologne will leave something else to remember you by.
Tom Ford – Noir eau de Parfum – £54
To conclude
---
In today's culture, we don't get that many opportunities to dress up formally. It is an enjoyable experience that will make you feel sophisticated, elegant and important. But remember, the most important element, the one component that will make you truly stand out, is your confidence. Be comfortable in your own skin and you'll look impeccable all night long.