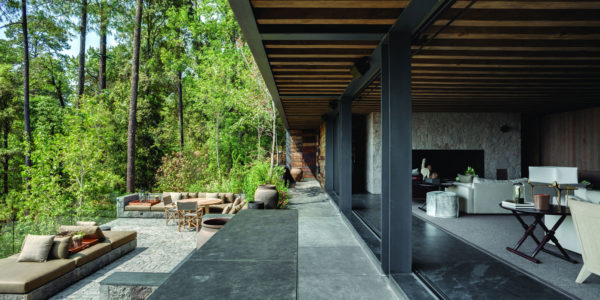 Have you ever dreamed of  having your very-own Mexican refuge? Have you ever seen the beauty of the sun falling over Valle de Bravo? Are you craving for a place of your own where you can feel free like the wind while still having all the comfort of the modern life? Wait a minute, does the last question make sense? Yes it does, and all of the questions before can become real too!
Located in the picturesque Valle de Bravo, Mexico, El Mirador is a residential project which meets all expectations. Completed in 2013 by CC Arquitectos, this wonderful construction is located on a land edge from where you can admire the stunning Lake Avándaro.
[adsense300gray]
This perfect hideaway features a family room connected to the exterior, allowing you to expand the social area to the terrace which offers a breathtaking view! It has one bedroom with a private bathroom. The kitchen features a large island with a slate counter top in the middle, which can be used both as a workplace or as a dinning table. However, all the spaces are characterized by flexibility and the architectural program is relaxed, in order to emphasize the owner's personality and to encourage an intense social life.
The principal access collides with a large body of water which is parallel  to a drinking place for horses. A low wall, made out of wooden railroad ties hides the area where cars are parked, making it to appear isolated from the rest of the construction.
El Mirador was thought and built in such a way that it respects the forest by having a minimal constructive impact! All the materials used are made in the Valle de Bravo region. In order to protect the construction from bad weather, this construction is half buried on one of its sides. Its main features if this architectural feature are the rustic features and the wonderful views. Due to the quality of the work, all these characteristics will pass the test of time!
So, as earlier stated, El Mirador is simply the perfect Mexican hideaway combining comfort and freedom in an unique way!
[photomosaic]