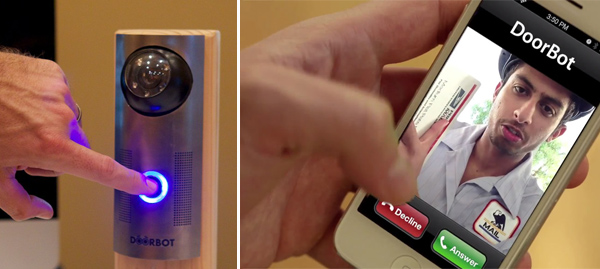 Once again, we're featuring a device that comes to solve a problem people have had for… probably centuries. Most certainly, since the first ages of human civilization, someone would come at your door to, I don't know, sell you their daughter, invite you to a royal feast, or something of that kind, and nobody was home. Too bad you wouldn't know when that happened because you didn't have a Doorbot App on your phone.
The mechanism is really simple. Your guest/delivery guy presses the button on your smart doorbell and your iPhone/Android phone or other device that you have connected to the doorbell rings as well. A video of the person ringing the bell will appear on your phone, allowing you to speak to them from anywhere in the world. The whole thing is wireless and the App is free.
The product comes with all the necessary tools for installation. No professional help is needed. Another great feature is the long-lasting internal battery, that will need to be charged after one year.
Some key aspects that you're probably already wondering about are weather resistance and security. Doorbot is built to withstand humidity, rain, sleet, snow, ice, and extreme heat. My immediate thought is "what about extreme cold?", but I would actually be willing to take a chance and buy the product anyway. Secondly, the theft guarantee is pretty awesome. If your smart doorbell gets stolen, the company will replace it for you.
All in all, we think it's a great way to stay in touch with the life at home, even if you're miles away, and even better for the times when you're too lazy to get up and answer the door.