One of the most synonymous facts of Sports is the Uniforms. As a result, many sports enthusiasts hold jerseys of their own. The designs as different as the many players who've played. In particular, Football is well known for it's reputation in American Sports. As a result, Football has been a main focus of sport stores everywhere.
Because jerseys have been so hailed for their appeal, they widely available, and many are purchased each day. To help track the statistics of those sales, DICK'S has created a tool. DICK'S is one of the biggest sports retailers in the country and is the first place many go to for high-quality jerseys. About five years ago, DICK'S set out to create a tool for tracking jersey quality versus its sales. Their creation? The Jersey Report, a website that collects who's jersey sells the most. It lists off different stats, basing them on who's jersey style is selling the most. For instance, one surprising jersey is selling the highest. This week's rank belongs to Carson Wentz, of the Philadelphia Eagles.
To the right of each entry shows you where they stood the week before. For instance, both Odell Beckham Jr. and Von Miller happened to drop in the ratings at the time of this writing. Another solid note of the service is the different stats presented. There are a few lists attached that separate it into different instances. There are lists such as Rookies, Teams, Defense and more.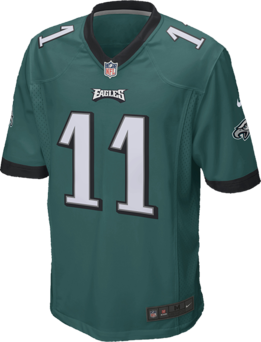 The interesting thing about the service is that fact that it's so spot on. It's not clear how often its updated, however, it has to be quite frequent as it seems to be up to date on all the current stats of the industry. So if you're looking for the newest jersey to add to your collection, jump on over to Jersey Report and find the jersey that best suits you!
Check them out on social media: Facebook and Instagram