Could you imagine that there are hundreds of Global Holidays in December across the world? After researching different cultures and traditions we discovered that there are hundreds of December Global Holidays that make people come together, remind us about important historical events or simply bring us and the ones we love joy.
We spent several days finding the most popular December Global Holidays and discovered why they are so special in different cultures. Let's dive into the treasures of the month and let's connect our cultures and values throughout this interesting article.
In case we missed something out, please feel free to add at the end of this article a specific holiday celebrated in December in your country or culture and we'll be more than happy to update it so others can join the celebration.
Below you will find the most important December Global Holidays and Celebrations, for each calendar date. As there are more than 200 December Global Holidays (religious, federal, or of special interest), in order for you to better follow its content, we divided this article as follows:
December Global Holidays: 10 different ways people celebrate during the festive season, based on their culture, traditions and religion.
Other December Global Holidays: religious, federal, cultural, or of special interest:

1st – 10th of December Global Holidays
11th – 20th December Global Holidays
21st – 31st December Global Holidays
Stick until the end of this article and find the most iconic December Global Holidays people celebrate around the world!
December Global Holidays: 10 different ways people celebrate during the festive season, based on their culture, traditions and religion.
1. Belize's Garifuna Community Dance Jankunu and Charikanari
During the Christmas and New Year holidays the local Garifuna community of Dangriga enjoy the Jankunu and Charikanari dancers. The Jankuru is one of the few dances where the lead drummer follows the dancer's fast paced, fun and entertaining movements.
The Charikanari is a masked dance, being a performance of a hunting scene of a "hunter man" in search of the "Two Foot Cow".  In this dance, performers wear a cow-head mask with real horns worn over a head wrap and a wire screen mask.
In case you're wishing for a longer Christmas, then Belize is the perfect place to spend the holidays, as the Christmas spirit lasts for the whole month.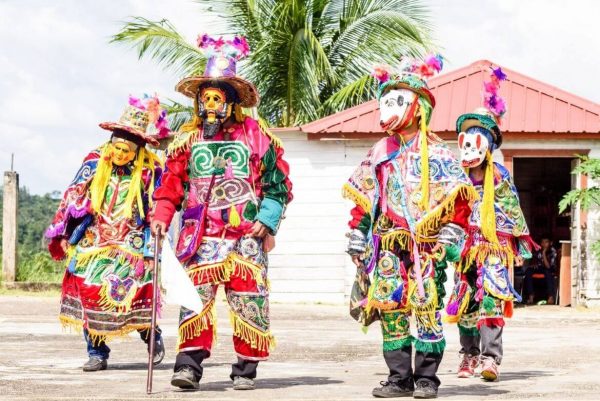 2. Las Posadas in Mexico: 16th-24th of December
The most celebrated holiday in Mexico is the celebration of Christmas, which is called Las Posadas. The holiday begins on December 16th, and lasts until Christmas Eve, on the 24th of December.
People in Mexico decorate Christmas trees in their houses and enjoy the spirit of Christmas with specific gastronomy: tamales, pozole and turkey. The Christmas holiday is fuelled with music and a piñata – made of papier-mâché, pottery, or cloth, that is decorated, filled with candy, and then broken as part of a celebration.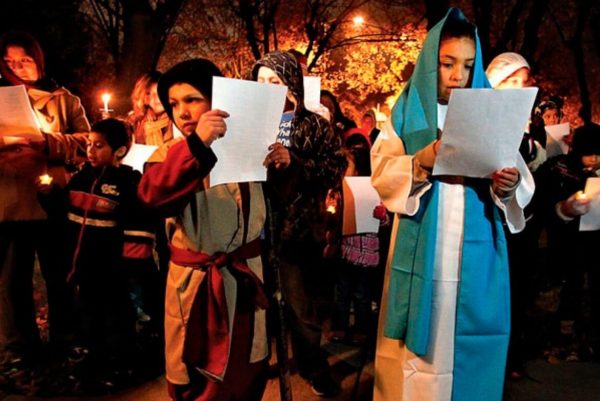 3. Dia de Las Velitas in Columbia
People celebrate Dia de las Velitas in Columbia on December 7th, lighting candles to honor the Virgin Mary and her immaculate conception, celebrated on the following day as well.
Starting with December 16th, Columbians take part in novenas, when families, friends and neighbours get together to pray in the days leading up to Christmas. A different house hosts the prayer every day, where people sing carols and eat their favorite rite local food.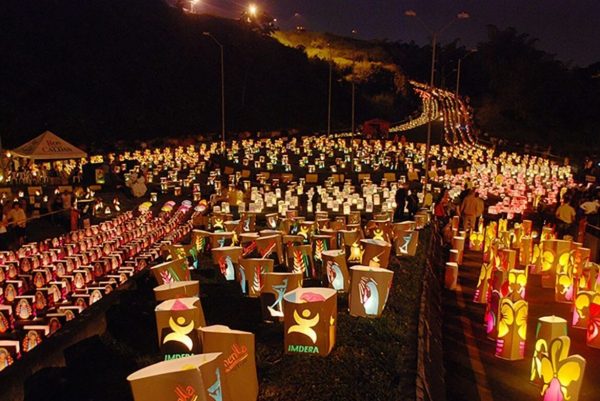 4. Parrandas and Pasteles in Puerto Rico
Starting with the end of November, Puerto Rico erupts in big celebrations. People participate in carol singing, also known as Parrandas, and visit their friends' houses around 10pm. Their goal is to surprise their friends with loud bachata and salsa music. People who are woken up by the music join the group, ending up in large parties.
On Christmas Eve or Nochebuena, Porto Ricans celebrate with their friends and family, with goods such as lechón, arroz con gandules, and pasteles de yuca.
Lechón is a type of pork that takes a long time to make, requiring people to begin cooking early in the day. Arroz con gandules is rice cooked with green pigeon peas, and usually has an orange-hue. Pasteles de yuca are similar to tamales but contain different ingredients. Traditional pasteles are made with a mixture of yautia (taro root), plantain, green banana, and sometimes kabocha pumpkin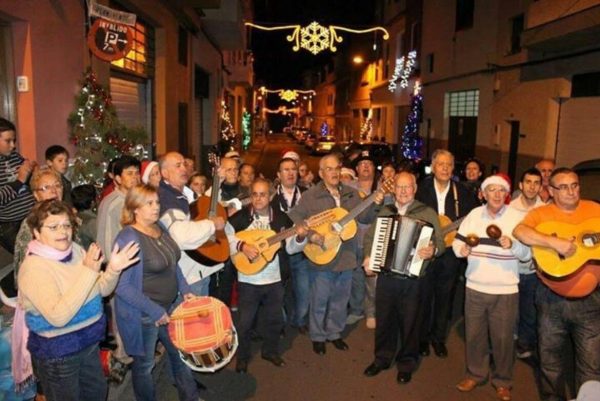 5. Hanukkah
Hanukkah or Chanukah commemorates the rededication during the second century B.C. of the Second Temple in Jerusalem and Jewish communities around the world celebrating it. This holiday is celebrated every December, and it is an eight-day festival.
Hannukah commemorates a historical event that took place in Jerusalem. A small army of Jews (Maccabees) fought against Seleucid Greek and removed the symbols of Zeus. Therefore, they built a new altar so they could offer sacrifices in keeping with Jewish law.
Many people also call it "festival of lights", and the heart of the festival is the nightly menorah lighting. The menorah holds nine flames, one of which is the shamash ("attendant"), which is used to kindle the other eight lights.
Year by year, thousands of people in different communities: from New York and Melbourne to Berlin and Moscow gather to light giant menorahs.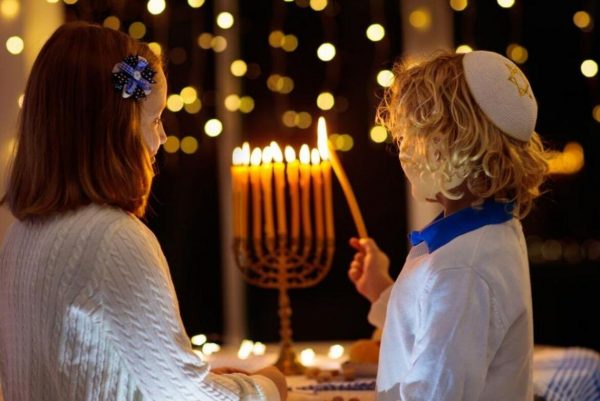 6. Kwanzaa
Non-religious global holiday that is celebrated in December in the United States, and also in the Caribbean and other countries where there are large numbers of descendants of Africans.
Kwanzaa is a holiday introduced to the US in 1966, as a ritual to welcome the first harvests to the home. The symbols of Kwanzaa include crops, mat, candleholder, corn, unity cup, ​​gifts and seven candles arranged on a table. Those symbols represent the historical roots of African-Americans in agriculture, as well as the reward for collective labor.
Some people say that Kwanzaa is similar with Thanksgiving Day as Kwanzaa is based on seven principles:
unity
self-determination
collective work and responsibility
cooperative economics
purpose
creativity
faith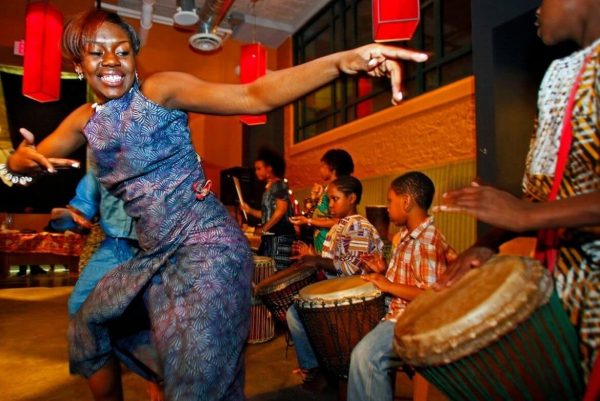 7. Omisoka in Japan
In Japanese tradition New Year's Day is the most important day of the year, and therefore New Year's Eve is celebrated by doing a thorough clean of the house, taking a long bath, and making sure there are clean clothes to wear in order to start the New Year fresh, in a clean state both in body and mind.
One of the most important traditions of the New Year's Eve is eating a bowl of toshikosisoba, in translation "cross over from one year to another", at 11pm. Should you ever join locals or friends in this celebration, make sure you eat every last bite, as it is considered bad luck to leave any toshi-koshi soba uneaten.
Traditionally, cooking during the first three days of the New Year is considered to be bad for the Kitchen God so everything has to be prepared beforehand. All the meals prepared for these three days are cooked on omisoka, and are called osechi. It is of significant importance in Japanese culture that the first meal on the New Year's Day has to be eaten with new chopsticks.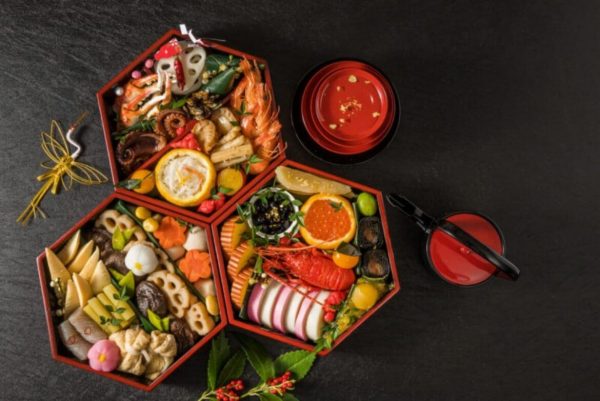 8. Krampusnacht
Krampusnacht is celebrated every year on the 5th of December. It began centuries ago and nowadays transformed into a December global holiday, rooted in German-speaking countries. The story of this holiday started with Krampus, the creature that was considered to be a "pagan supernatural", depicted in very much the same way the devil would be in Christianity.
Krampus has slowly morphed into a creature who works with St. Nicholas to capture children who misbehave in the weeks leading up to Christmas.
Krampusnacht is a festival also celebrated in the US, where people dress up as Krampus and parade through the streets, scaring any children who might cross their path. The holiday works side-by-side with St. Nicholas day. Well-behaved children are treated with visits from St. Nicholas during the day, while poorly-behaved children believe the threat of Krampus might come around instead.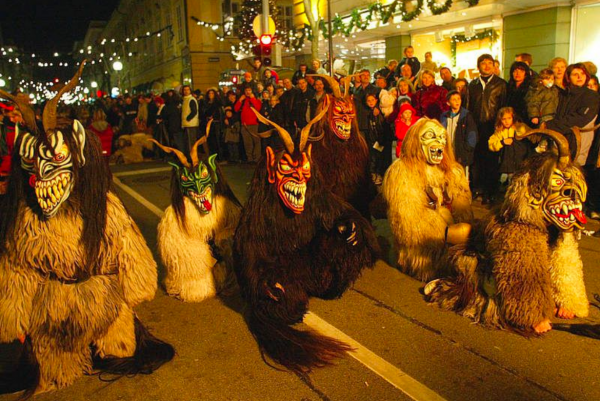 9. St. Lucia Day
St. Lucia Day is one of the biggest celebrations in December (aside from Christmas) in Sweden, Denmark and parts of Finland.
The December 13th celebration commemorates St Lucia, a young Christian martyr who died for her fatih. It is considered that St Lucia used to secretly bring food to the Christians hiding in Roman catacombs under the city, lighting her way with candles held in a wreath on her head so she could carry things in her hands.
The day is celebrated with a Lucia train procession, in which a young girl portraying St Lucia leads the way wearing a white gown, with red sash and crown of candles. She is followed by Lucia handmaidens, star boys and gingerbread men who all carry candles. Therefore, you can expect to see churches, town halls, schools, offices and restaurants become a twinkling sea of candlelight.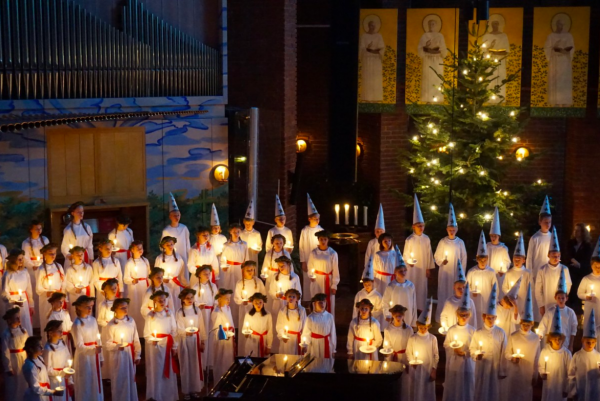 10. Christmas
We all know what Christmas is and we all celebrate it in different ways. The symbolism of Christmas is different from one culture to another as it is strongly influenced by values and religion.
Christmas is celebrated in various countries as a cultural as opposed to a religious event. Christmas is recognized as the holiday that commemorates the birth of Jesus Christ of Nazareth (the religious meaning) for some of us, while for others it is a special day with joy and traditions – waiting for Santa Claus and gathering with the family at the same table enjoying meals and memories.
For most people, Christmas falls on December 25th, but hundreds of millions of Orthodox Christians celebrate on January 7th. While some cultures follow traditional religious themes, others incorporate folklore or regional costumes.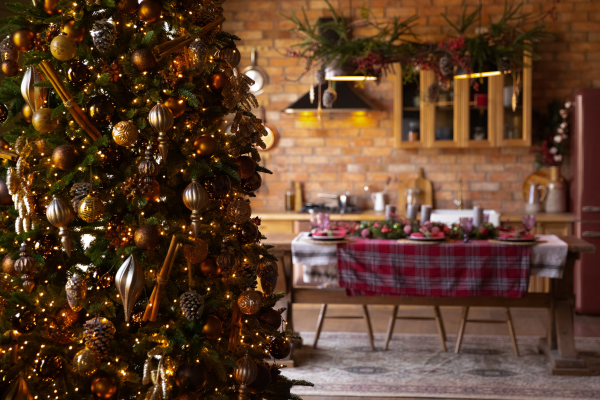 Other December Global Holidays: religious, federal, cultural, or of special interest
Being fascinated by culture differences, we followed all continents one by one and selected the most beautiful December holidays celebrated in each part of the world. We hope that you'll be as fascinated as we were when we discovered these magical celebrations.
Please do let us know in case we missed any festivity within your culture, country or region and we will make the world hear about it within this post.
1st – 10th of December Global Holidays
Here are the most important December Global Holidays from the 1st until the 10th of the month.
December 1
We curated a list of festivities celebrated on the first day of the month. Now you will have more reasons to celebrate on the first day of the magical month.
Rockefeller Center Christmas Tree Lighting – New York City, USA – Cultural
The Rockefeller Christmas Tree Lighting is one of the most well known December Global Holidays, taking place every year, on the Wednesday after Thanksgiving Day (1st November in 2021 and 30th November in 2022), hosted by the mayor of New York City and broadcasted by N.B.C.
The first Christmas Tree at Rockefeller Center was erected and decorated in 1931, by the construction workers at the center. That very first tree was bought with money pooled by the workers, and decorated with ornaments made by their family members. Two years later the festivity became an official celebration, organized by the local authorities.
Fun fact: The three-dimensional Swarovski star that stands on top of the tree weighs approximately 900 pounds, having over 3 million crystals.
World AIDS Day – Worldwide – Health
Falling on December 1st every year, World AIDS Day was first recognised in 1988. Its main purpose is to raise awareness of the AIDS pandemic, and mourn those who have died of this disease.
It is estimated that more than 40 million people have died of AIDS since 1981 worldwide, and around 37 million who currently live with HIV.
You can mark World AIDS day by wearing a red ribbon, donate to an AIDS charity or attend a candlelight vigil.
More details on World AIDS Day's website.
Commemoration Day or Martyrs' Day – UAE – Federal
First held in 2015, the Commemoration Day is observed in the United Arab Emirates each year to remember, recognize and honor the sacrifices and patriotism of the Emirati martyrs.
On this day people pay tribute to the heroes of war who sacrificed their lives for peace in the land, hold a one-minute silence and offer gifts to martyrs' family members as a sign of respect.
Romanian National Day – Romania – Federal
Romania National Day or the Great Union day celebrates the historical great union from 1918 between the regions that are now modern-day Romania: Transylvania, Bessarabia, and Bukovina.
To mark the special celebration, Romanians attend the official parades held in each big city, read history books and indulge in traditional Romanian dishes.
National Christmas Lights Day – Worldwide – Special Interest
The National Christmas Lights Day is a celebration that everyone expects, around the world. This is the day when most of the cities around the world light their streets' Christmas lights and people start decorating their homes. People around the world love to take Christmas lights walks and put on big scenes with their neighbours.
Fun fact: Before the invention of electric lights, people would balance candles on the branches of their Christmas trees. Electric Christmas lights were first invented in 1880 by Thomas Edison and in 1903 General Electric began selling pre-assembled kits of Christmas lights.
Universal Human Rights Month – Worldwide – Cause
It is not just a day, but an entire month to remember that the United Nations General Assembly codified the basic human right of every person. It is mainly a time to reflect on the way we treat others, and fight for equality.
Mark this celebration by reading or rereading the Bill Of Right, do some volunteering and support your community.
---
December 2
On the 2nd of December, we can enjoy many global holidays that people celebrate: this time, most of them are federal or related to special causes.
United Arab Emirates National Day – UAE – Federal
United Arab Emirates National Day is celebrated to mark the unity of the seven emirates in 1971: Abu Dhabi, Dubai, Ajman, Al-Ain, Sharjah, Umm al-Quwain, and Ras Al Khaimah later on.
On December 2nd, the emirates declared their independence from Britain, becoming the United Arab Emirates, with the first president being elected. The best part of this historical event is that the merger and the freedom from colonial rule was achieved without any violence.
Lao National Day – Laos – Federal
The holiday marks the end of the monarchy's rule and the establishment of the Lao People's Democratic Republic in 1975.
National Anytime Hawaiian Day – Hawaii – Federal
National Anytime Hawaiian Day is a public holiday in Hawaii that celebrates the diverse culture and history of the Aloha State. Hawaiians celebrate this day with traditional food, festive carnivals and parades. If you happen to visit Hawaii in this period, you will definitely have a great time.
Bear in mind that this is not the same as the Hawaiian National Day on July 5th. There is no evidence to show how people started to celebrate National Anytime Hawaiian Day as it is just an informal way of introducing Hawaiian culture and traditions to the world.
Fun fact: Hawaii is the newest state of the American continent, attaining its statehood only in 1959.
International Day for the Abolition of Slavery – Worldwide – Cause
International Day for the Abolition of Slavery is being celebrated to raise awareness and reinforce global efforts in combatting the scourge of modern slavery like trafficking, sexual exploitation, child labor, forced marriage, and forced recruitment of children into armed conflict. Around 40 million people face modern-day slavery worldwide.
Please note that this is different than the Day of the Remembrance of the Slave Trade and its Abolition, which is a day to reflect on the atrocities committed during the Transatlantic Slave Trade Era.
More details on the United Nations' website.
Special Education Day – USA – Special Interest
On December 2nd people commemorate the Signing of the Individuals with Disabilities Education Act into law in 1975. This act granted access to children with special needs to free public education.
Asom Divas – Indian state of Assam – Federal
Asom Divas is a regional public holiday in the Indian state of Assam, commemorating the arrival of the founder and first King of the Ahom kingdom in the territory of ancient Assam.
Fun fact: The Indian state of Assam is one of the country's largest states, with over 30 million people.
---
December 3
Don't hurry up thinking that there is nothing to celebrate on the 3rd of December…
International day of people with disabilities – Worldwide – Cause
This is a day to remember how many people are impacted by different disabilities. Around 1 billion or 1 in 7 people worldwide face challenges and barriers in their day to day lives due to some specific type of disability.
National Bartender Day – USA – Appreciation
December 3rd is the day to show your appreciation for all the mixologists out there. There are half a million bartenders in the U.S., so it's the perfect time to discover a new cocktail at your local bar and leave an extra tip to your bartender.
Let's Hug Day – Worldwide – Relationship
Hugging raises people's spirits by allowing them to feel another person's warmth and sincerity. There are no clear sources to indicate the origins of Let's Hug Day, but some suggest Kevin Zaborney was the mastermind behind the day.
International Sweater Festival – Worldwide – Cultural
The International Sweater Festival Day is observed annually on the second Friday after Thanksgiving, which falls on December 3 this year. Whether you love or are completely indifferent to sweater vests, you cannot deny that the fashion staple is making a fashionable comeback.
Coats and Toys for Kids Day – Worldwide – Cause
Coats and Toys for Kids Day (C.T.K.D.) is celebrated on the first Saturday in December every year. This day is about people coming together and creating a positive change in – what can sometimes seem – an indifferent world. On C.T.K.D., people donate cold-weather gear like coats, boots, gloves, as well as toys to eligible families.
---
December 4
December 4 brings to the table quite many international days that people love to celebrate. We found a couple of funny international days that people celebrate on December 4 around the world:
National Sock Day – USA – Special interest
This is the day to celebrate those rarest of socks that managed to stick together and maybe to mourn those socks that lost their significant others in the wash over the years.
Wear Brown Shoes Day – USA – Special interest
Did you know that at one point in time, brown shoes were considered less prestigious than black shoes? Today, things have changed and brown shoes are viewed as a symbol of elegance and beauty.
Candle Day – USA – Special interest
Stock up on your favorite calming scents for the lowest prices of the year. The day only comes around once annually, so make sure it's on your calendar!
Cabernet Franc Day – USA – Food & Beverage
Did you know that Cabernet Sauvignon would not exist without Cabernet Franc? It's just one of several reasons to love it and celebrate it on December 4th every year.
Santa's List Day – USA – Cultural
Santa's List Day is the day when Santa puts together his list of naughty or nice children. The ones on the nice list receive toys, candy, and other presents on Christmas Eve. The naughty children may find coal in their stockings or not much at all!
National Cookie Day – USA – Food & Beverage
Maybe you prefer your cookies to have a crunchy snap, or maybe you'd rather bite into soft and chewy sugary heaven. Either way, eating cookies brings us happiness, and we should all do it more often.
---
December 5
Although they are not so common, we identified a few interesting global holidays people celebrate on the 5th of December.
National Father's Day in Thailand – Thailand – Federal
It is a national holiday in Thailand where schools and businesses are closed. This day celebrates fatherhood across the country, people honoring and thanking their dads and father figures for the contribution they make to their children's lives.
International Ninja Day – Worldwide – Special interest
Back in 2003, Ninja Burger created International Ninja Day on December 5 as a way to celebrate the Ninja "speed" with which their burgers are delivered. Aside from that, ninjas are awesome. We all love them and secretly wish we were one.
World Soil Day- Worldwide – Special interest
How often do we appreciate the ground beneath our feet when we know our futures depend on healthy soil? Thankfully, there's a day dedicated to the importance of healthy, sustainable soil management.
National Repeal Day – USA – Food & Beverage
Back in 1933, following the signature of President Franklin D. Roosevelt, the United States ended the 13-year experiment with the nationwide prohibition of alcohol.
---
December 6
The 6th of December comes with several global holidays that you may find interesting.
St. Nicholas Day – Worldwide – Religious
Although St. Nicholas partially inspired the Christmas and Santa Clause that we all know and love, St. Nicholas actually derives from a different kind of tale.
St Nicholas Day on December 6 recognizes the third-century patron saint and the generosity he showed to those around him. He left such a lasting impact that over time his character inspired Santa Clause.
More details on Travel Awaits' website.
Finland Independence Day – Finland – Federal
While independence days of countries all over the world include numerous festivities, Finland is famous for memorializing their freedom from Russia in 1917, with a gala often held at the Presidential Palace.
Fun facts:
Finland has been ranked the happiest country in the world for four years in a row.
People in Finland drink the most coffee in the world — 26 lbs per individual, annually.
Finland has around 187,888 lakes.
Día de la Constitución or Constitution Day in Spain – Spain – Federal
On this day in 1978, Spain freed itself from authoritarian rule and approved a new constitution that laid out the rights of the people.
This was an essential step for Spain as it freed itself from the clutches of a sole dictator and gave the nation the power to express its beliefs and live freely.
National Miners Day – USA – Appreciation
Mines have one of the most difficult and dangerous jobs in the world. The entire country's economy depends on them as mined materials contribute to things like roads, houses, cars and computers. So let's take a moment to think about the important role miners play in our daily lives!
Walt Disney Day – United States – Entertainment
We all grew up watching cartoons and movies by Disney, and they are an essential part of our childhood. Feeling nostalgic already? If yes, now is the perfect time to relive the fun days once again by celebrating Walt Disney Day.
National Day of Remembrance and Action on Violence Against Women – Canada – Cause
Informally called White Ribbon Day, the day marks the anniversary of the École Polytechnique massacre in 1989, an act of senseless violence that claimed the lives of 14 women. This is the day to emphasize our dedication to fighting the hatred that inspired the tragedy.
King Bhumibol's Birthday – Thailand – Cultural
The occasion is also known as Thailand's National Day and Father's Day. In an effort to commemorate the birthday of the late King of Thailand, Bhumibol Adulyadej, Thailand becomes a party haven where almost everyone is out on the streets to pay tribute to the great king.
---
December 7
December 7 is a day with a few iconic international moments. We named a few and briefly presented their meaning. Hopefully, you will find them worthy to explore.
International Civil Aviation Day – Worldwide – Special interest
This is the day to acknowledge the flight industry's influence on modern life. Flying has brought the world closer together and had a huge impact on our lives. On December 7 we should be thankful that flying has opened so many doors to all of us.
National Pearl Harbor Day of Remembrance – USA – Federal
On December 7 we commemorate the day Japan attacked the United States in 1941 at Pearl Harbor when more than 2,400 people died and hundreds of aircraft were destroyed or damaged. The historical event represents the entry of the USA into WWII, on the Allies' side.
National Illinois Day – USA – Federal
Illinois is one of the nation's most exquisite states. It was the 21st state to join the United States, known for many prominent U.S. politicians in history, and many museums, attractions, traditional food, entertainment and other great activities.
Flag Day of India – India – Federal
On Flag Day of India people honor the superheroes of the Armed forces. It's a day that allows citizens to take responsibility for looking after disabled servicemen, families, and dependents of martyrs who sacrificed their lives for the country.
Flags in dark blue, light blue and red colors representing the Indian Army, Air Force and Navy, are distributed throughout the country annually, in exchange for donations.
---
December 8
Let's look at some of the celebrations people around the world remember when the 8th of December comes up.
Feast of the Immaculate Conception – Worldwide – Religious
The Feat of the Immaculate Conception is one the most important pillars of Catholic teaching, referring to the conception of Mary, and not Jesus as many consider. Catholics believe that her conception was "immaculate" because God intervened, relieving Mary of the original sin.
National Brownie Day – USA – Food & Beverage
Warm, chewy, and rich, a nice chocolate (or blondie) brownie is the perfect dessert to end your night with. Indulge in gooey goodness and let the real world melt away with you for a delectable moment.
Bodhi Day – Japan – Religious
Bodhi Day is celebrated to mark the moment that took place 2,500 years ago when Siddhartha Gautama achieved enlightenment and became the Buddha or 'awakened one'. The story goes that, rejecting the luxurious lifestyle of a prince, Siddharta left the comforts of the palace at the age of 29 and went on a journey of deep introspection to seek meaning in life.
In Japan, people call it Rohatsu, and was moved to its current date when Emperor Meiji began the westernization of Japan and introduced the Gregorian calendar. It is a spiritually invigorating day that is beneficial to many.
More details on Learn Religions' website.
Uzbekistan Constitution Day – Uzbekistan – Federal
Uzbekistan Constitution Day marks the anniversary of the adaptation of Uzbekistan's constitution after its liberation from the Soviet Union.
This is a public, non-working holiday in the country when marches are held in schools and government offices, and the proud Uzbeks come together to renew their commitment to the law of the land.
Fun facts:
The regional bread, Lepioshka, must be treated with the utmost regard — it must never be laid upside down, and it must never be placed on the ground.
Only two men can use handshakes as a form of greeting; women must place their right hand on their chest and bow to greet others.
You are welcome to take souvenirs from Uzbekistan, how it is not allowed to buy antiques that are more than 50 years old.
---
December 9
Can you think of any holidays celebrated on December 9? Don't worry, we couldn't recall any global celebrations either, however here are some you may want to mark in your calendar.
Tanzania Independence Day – Tanzania – Federal
Tanzania Independence Day celebrates the country's independence from Britain, which governed Tanzania till 1961 under the name of Tanganyika.
Techno Day – USA – Entertainment
The date was intentionally chosen to coincide with the birthday of Juan Atkins, who is widely considered the originator of techno music along with Derrick May and Kevin Saunderson. Jointly, they are known as the Belleville Three.
International Day of Veterinary Medicine – Worldwide – Animal
The day recognizes the important work done by organizations such as the American Veterinary Medical Association (AVMA) whose vision and mission is to promote a strong and unified veterinary sector that can protect animal as well as human health and welfare.
International Anti-Corruption Day – Worldwide – Cause
The International Anti-Corruption Day serves as a reminder for each of us to actively speak out and fight against corruption in our day to day lives. The United Nations has declared this day to bring attention to the need to adopt an anti-corruption stance.
---
December 10
When it comes to the 10th of December, you'll notice a few iconic days people celebrate around the world yearly. We can potentially transform These festivities into December global holidays, when looking at their importance.
Human Rights Day – Worldwide – Federal
Human Rights Day celebrates the day the General Assembly of the UN adopted and proclaimed the Universal Declaration of Human Rights in 1948. It is the most translated document around the world and is available in over 500 languages. It has inspired countries and people alike to start treating every person with the right to life, liberty, property, and the pursuit of happiness.
International Animal Rights Day – Worldwide – Animal
It is not a surprise that the holiday shares the date with Human Rights Day, as it should be. Animals have the right to be treated with respect, and acts of cruelty against them need to end just as much as for humans.
Nobel Prize Day – Worldwide – Special interest
The Nobel Prize Day honors the achievements of Alfred Bernhard Nobel, a Swedish engineer, chemist, entrepreneur, and philanthropist.
Facts:
The Nobel awards recognize extraordinary people in: physics, chemistry, medicine, literature, and peace, while economics is a special prize.
When Nobel sold his ballistite patent to Italy, it did not sit well with the French government and he moved to Italy, where he died.
A light-hearted spin on the Nobel Prizes, it recognizes 'trivial' or unusual scientific achievements.
More details on The Nobel Prize's official website. 
Christmas Jumper Day – United Kingdom – Fun
From ugly sweaters to cozy mock necks, we can't think of a more fun way to get into the spirit of the season than wearing your favorite Christmas jumper.
'Save the Children' initiated Christmas Jumper Day. The organization hosts a fundraiser annually, encouraging people to wear creative Christmas jumpers.
National Lager Day – USA – Food & Beverage
No one really knows how this holiday came about, but one thing is for sure, Americans love this beer at sporting events, backyard barbecues or baby showers.
11th – 20th of December Global Holidays
Here are the most important December Global Holidays from 11th to the 20th of the month.
December 11
Let's take a look at the most interesting celebrations/ international days held on the 11th of December every year.
International Mountain Day – Worldwide – Cause
Mountains are some of the most interesting geological features that our world has to offer. Clear proof of the massive changes that happen beneath the surface of our planet, mountains have also served as playgrounds and places of worship for countless generations of humans. Anything that's been such a mainstay for so many people and cultures through millennia is worth commemorating. So on December 11, we celebrate International Mountain Day!
National App Day – USA – Entertainment
Whether you want to take a selfie for the 'Gram, tweet your thoughts, or keep your favorite music at your fingertips, celebrate the marvelous world of apps on National App Day on December 11.
Anniversary of the Statute of Westminster – Canada – Special Interest
The Anniversary of the Statute of Westminster is observed on December 11 every year. Although it is a holiday, Canadians still go to work, and it is pretty much an ordinary day for them. It is a nod to Canadian independence. The "Union Jack," where logistics allow, is flown along with the Maple Leaf on federal buildings, airports, military bases from dawn to dusk to mark this day. It commemorates a British law that was passed on 11 December 1931. It was Canada's final achievement of independence from Britain.
UNICEF Birthday – Worldwide – Cause
UNICEF, or the United Nations Children's Fund, was initially created to provide emergency food and healthcare to children and mothers in countries that had been devastated by World War II.
---
December 12
The following list presents some remarkable celebrations everyone should mark on their calendars on the 12th December.
International Day of Neutrality – Worldwide – Cultural
The observance of this day was initiated by the United Nations and focuses on advocating and campaigning for mutually beneficial- and friendly relations between countries. A country in a neutral state means that it is not taking any sides in times of conflict or war. Switzerland is a great example of neutrality, which chose to remain neutral during both World Wars.
Jamhuri Day – Kenya – Federal
The day marks the date in 1964 when the country was formally admitted into the Commonwealth as a republic. "Jamhuri" is the Swahili word for Republic. December 12 is also the date when Kenya obtained its independence from Great Britain in 1963.
Choral Day – Worldwide – Entertainment
Choral Day celebrates the incredible gift of music and especially choral music. When we think of choirs, we associate them with church music that is energetic and uplifting.
Gingerbread Decorating Day – USA – Food & beverage
Gingerbread Decorating Day is celebrated by children and adults alike on December 12 every year. The day sets the mood for the upcoming holiday season. Baking of gingerbread is one of the oldest holiday traditions and Gingerbread Decorating Day unleashes the hidden artist in us!
Universal Health Coverage Day – Worldwide – Health
Universal Health Coverage Day is observed annually on December 12 with the aim to ensure people around the world can get the quality health services they need without financial hardship.
Our Lady of Guadalupe Day – Mexico – Religious
Our Lady of Guadalupe Day, on December 12, draws millions of Catholics every year from across Mexico and other countries to pay pilgrimage to see an image of Mary in the Basilica of Guadalupe. It is the site of her apparitions to Juan Diego Cuauhtlatoatz in 1531, now the most visited Catholic site in the world.
---
December 13
Iconic moments people around the world celebrate on December 13.
National Horse Day – USA – Fun
National Horse Day is celebrated every December 13. It's a day to remember the economic, historic, and cultural contributions that horses have made.
U.S. National Guard Birthday – USA – Federal
Established in 1636, the National Guard is the oldest military organization in America. Its members serve during times of war and emergency. Take time to honor those who have protected our country for centuries.
Green Monday – Worldwide – Cause
This isn't a day dedicated to the environment (though that shouldn't stop you from being eco-friendly), but to all that last-minute shopping we're all getting in before Christmas officially takes over!
Malta Republic Day – Malta – Federal
It is a public holiday for the general population, and schools and most businesses are closed. Malta is an archipelago in the central Mediterranean, between Sicily and the North African coast. The country is known for its historic sites related to a succession of rulers including the Romans, Moors, Knights of Saint John, French and British.
---
December 14
In case you're still curious, let's jump into December 14 memorable celebrations.
National Energy Conservation Day – India – Cause
The day is put on by the Bureau of Energy Efficiency (BEE), which is part of the Ministry of Power. Its goal is to show off India's great work in making energy more efficiently and saving resources. On this day, people also talk about more plans for the future, with holistic development as the main goal to help stop climate change.
Roast Chestnuts Day – USA – Food & Beverage
While the day is a relatively new celebration, the tradition of roasting chestnuts dates back centuries. The natural sweetness of the nut is revealed when roasted, delighting our taste buds.
National Alabama Day – USA – Federal
Alabama fought hard to join the Union with its beautiful people and landscapes. The state oozes Southern hospitality and nostalgia.
Martyred Intellectuals Day – Bangladesh – Cause
Martyred Intellectuals Day is observed on this day to commemorate the more than 1,000 intellectuals who were killed by Pakistani forces during the Bangladesh Liberation War in 1971. Just as victory appeared to be on the horizon, Pakistan kidnapped and brutally murdered some of Bangladesh's brightest intellectuals (formerly East Pakistan). The goal was to exterminate the entire intellectual class of Bangladesh by any means necessary. Observance of Martyred Intellectuals Day ensures that the world will never forget the sacrifices and bravery of these extraordinary individuals.
---
December 15
As we got to know some of the most important December Global Holidays held in the first half of the festive month every year, let's take a look at the second half of the month, starting with December 15.
National Cupcake Day – USA – Food & Beverage
Cupcakes are a one-of-a-kind dessert that can be decorated however you want: with frosting, sprinkles, ganache, or chocolate drizzle. Cupcakes are a whimsically versatile dessert that can be made for any occasion.
International Tea Day – Worldwide – Food & Beverage 
The day is primarily intended to raise awareness about the impact of the tea trade on farmers and workers, but it is also observed by tea enthusiasts all over the world.
Bill of Rights Day – USA – Federal 
It's important to celebrate the Constitution of the United States and the way it gives people rights and freedoms. On Bill of Rights Day, we remember when the first 10 amendments to the U.S. Constitution were signed into law. The National Archives keeps track of the many ways the day is celebrated.
---
December 16
December 16 doesn't disappoint. Let's see what other parts of the world this day brings us to, in terms of Global Holidays.
Las Posadas – Mexico – Religious 
Las Posadas is also described in more detail at the beginning of this December Global Holidays post. Mexicans and Latin Americans all over the world celebrate Las Posadas, a religious festival that lasts from the 16th to the 24th of December every year. Parties are held at various people's homes over the course of the nine-night festival.
Bangladesh Victory Day – Bangladesh – Federal
The occasion commemorates the victory of the Bangladeshi and Indian forces over the Pakistani forces in the Bangladesh Liberation War of 1971, which resulted in the deaths of approximately three million Bangladeshis and the displacement of a further ten million people. Bangladesh celebrates its Independence Day on March 26, but it was on that date that the atrocities of this war began to be committed against its people.
Kazakhstan Independence Day – Kazakhstan – Federal 
Since 1991, Kazakhstan's Independence Day, which is celebrated on December 16, has unsurprisingly been the country's most important national holiday. This holiday is made even more significant by the fact that it is frequently observed over two days — December 16 and 17. Not only that, but if December 16 falls on a weekend, the following Monday is designated as a holiday as well.
Bahrain National Day – Bahrain – Federal
Bahrain gained its independence from the United Kingdom in 1971, following a long period of British rule. It would mark the beginning of a prosperous and peaceful chapter in Bahrain's history — a success story written for and by Bahrainis themselves, in their own words.
---
December 17
Get to know other parts of the world culturally. Check the most important 17th of December Global Holidays you can observe just as locals do.
Wright Brother's Day
National Maple Syrup Day
National Device Appreciation Day
---
December 18
We are already deep into that period of the year when everyone talks about Christmas and presents. But there are other celebrations around the world, worth watching and celebrating.
Hanukkah
Arabic Language Day
International Migrants Day
---
December 19
The world is full of different celebrations and traditions. Let's take a look at what people around the world celebrate on the 19th of December every year.
Goa Liberation Day
National Emo Day
Look for an Evergreen Day
---
December 20
Whether they come with centuries of tradition or people just started to officially celebrate them every year, public holidays can be a source of joy and appreciation for what we are and what we have.
National Sangria Day
Go Caroling Day
Games Day
21st – 31st of December Global Holidays
Here are the most important December Global Holidays from the 21st to the 31st of the month.
December 21
And here we are, at our last section of our magical December Global Holidays list. Let's see what can we celebrate on December 21.
Yule
Blue Christmas
Winter Solstice
National Maine Day
National Crossword Puzzle Day
International Dalek Remembrance Day
National Flashlight Day
---
December 22
December is the month of togetherness. Sometimes we just need a little celebration to bring us closer to our loved ones. There is a reason on December 22 as well…
Forefathers' Day
National Cookie Exchange Day
Mathematics Day
---
December 23
By this time we hope you will be close to your loved ones. Here are some global holidays and celebrations that bring people together around the world on December 23.
National Christmas Movie Marathon Day
Kisan Diwas
National Pfeffernusse Day
Festivus
National Roots Day
---
December 24
For most of us this is the most expected night of the year. But maybe for others it has a different meaning.
Christmas Eve
Libya Independence Day
National Consumer Rights Day
---
December 25
Of course Christmas is the most popular celebration on December 25. Let's not leave aside those who celebrate for this day differently.
Christmas
Jesus' Birthday
National Pumpkin Pie Day
Quaid-e-Azam Day
---
December 26
Christmas Day has just passed, but for sure we still feel festive on December 26. Here are some other reasons or ways to celebrate this day.
St. Stephen's Day (Ireland)
Kwanzaa
Boxing Day
Day of Goodwill
National Candy Cane Day
---
December 27
Let's discover how other people around the world celebrate December 27. Let's self-educate by discovering other cultures and traditions.
Anniversary of Benazir Bhutto's Death
National Fruitcake Day
International Day of Epidemic Preparedness
---
December 28
Whether they are religious, federal or of special interest, here are the most popular festivities around the world on December 28.
Holy Innocents Day
National Short Film Day
Proclamation Day
Pledge of Allegiance Day
Card Playing Day
---
December 29
Observing and celebrating the cultural differences between all of us can bring us closer. For some of your colleagues or friends December 29 has a special meaning. Maybe you can join the celebration!
Mongolia Independence Day
Tick Tock Day
Constitution of Ireland
---
December 30
It's almost the end of the year so let's not let it go without bringing some more joy into our lives. Try something different this year and observe at least one of the following global holidays.
National Bacon Day
Falling Needles Family Fest Day
---
D
ecember 31
Before getting ready for the New Year's Eve party let's take a moment and reflect upon one of the following celebrations on December 31!
World Peace Meditation Day
Hogmanay
World Azerbaijanis Solidarity Day
National Heroes Day (Timor-Leste)
Restoration Day in Geneva
New Year's Eve