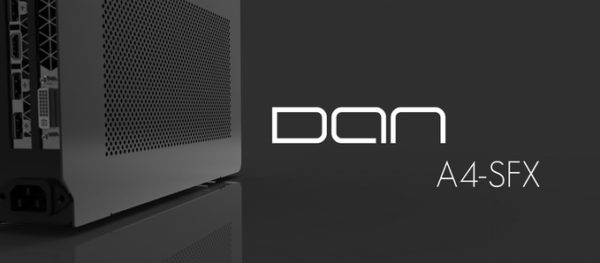 Small body, big heart
No matter how well performing laptops are at the moment, it's near impossible to match the output power of a high end tower computer unit. The truth is, mobile components are simply not as performance oriented as their bulkier counterparts. DAN Cases offers a compact alternative to large computer cases while preserving compatibility with high-end hardware.
A sought-after piece for SFF (that is, Small Form Factor) enthusiasts, A4-SFX is able to hold Intel i7 processor compatible motherboards as well as full length high end GPUs as GTX 980 Ti. The trick to fit such space-eating components into a small case is the use of a high quality PCI-E extender. The PSU unit is mounted on the front of the case, and depending on its size, the case can fit one or two HDDs or SSDs.
Cooling is done in a smart manner; every component gets air directly from the outside of the case while hot air generated is pushed up without an extra fan. Due to its aluminum build, DAN A4-SFX case weighs only 1.24 kg. All additional materials are premium grade, leaving no change of sudden failure.
The case comes in either anodized black or silver exterior while the interior is available in only matte black. 3M PCI-E extender is included in the package. The case is fully CE certified and complies with all European safety and energy standards.