For those of you who believe they have what it takes to be an amazing cook, we'd like to offer you a few challenges – to test, explore, recreate and enchant your friends with. After all, sunny days and free time require complex recipes; think Indian or Moroccan – all the exoticism you could ask for in a plate of food.
Indian – Dal Maharani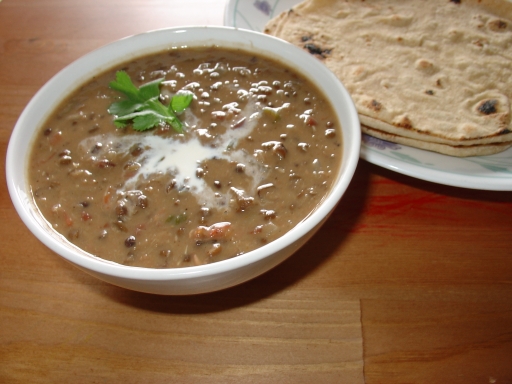 [list_icon color=orange type=icon_chartcicle]
1/2 cup whole black gram (sabut urad), soaked overnight
2 tablespoons red kidney beans (rajma), soaked overnight
salt to taste
2 medium onions
10 cloves of garlic
1 1/2 inch piece of ginger
1 tablespoon pure ghee
Butter  2 tablespoons
1 teaspoon cumin seeds
1 medium tomato
1 teaspoon red chilli powder
1 teaspoon garam masala powder
1/4 cup cream + extra cream for garnishing
1 sprig fresh coriander leaves
[/list_icon]
HOW:
Pressure-cook urad dal and rajma in about 4-5 cups of water with a little salt till 8 whistles are given out. Drain and reserve the cooking liquid. Chop onions and garlic. Cut the ginger into thin strips. Heat ghee and butter in a deep non-stick pan. Add cumin seeds and sauté for a few seconds. Add onions, garlic and ginger. Sauté for 2 minutes or till lightly browned. Puree tomatoes. Add red chilli powder and tomato puree to the onions. Mix well and cook till fat separates. Add cooked dals and 1½ cups of cooking liquid. Mix well. Add garam masala powder. Mix well and cook on low heat for 15-20 minutes, stirring frequently. Add cream and stir to mix. Serve hot garnished with a swirl of cream and a coriander sprig.
Moroccan – Moroccan Chicken and Date Tagine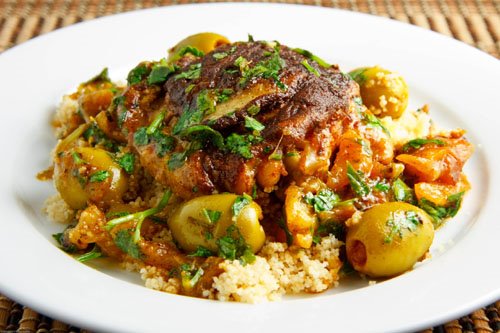 [list_icon color=orange type=icon_chartcicle]
1 large red onion, thinly sliced
1 unwaxed lemon, zested
4 fresh dates or 4 soft dried dates
2 large boneless skinless chicken breasts
3 tablespoons olive oil
50 g pine nuts
salt and pepper
1 teaspoon harissa
350 ml chicken stock
200 g couscous
1 tablespoon butter
1 tablespoon chopped coriander
[/list_icon]
HOW:
[Adsense200x90]
Cut the dates in half, discard the stone and then chop into six pieces. Slice the chicken into short strips. Heat two tablespoons of olive oil in a frying pan and stir in the onion. Cook until slippery and soft, then add in the pine kernels and lemon zest, salt and pepper. Turn down the heat and cook for about five minutes, before adding in the chicken. Cook until the meat is lightly browned. Squeeze the juice from half the lemon over the top, stir in the harissa, stock and dates. Simmer for 10-15 minutes, stirring occasionally, until the water is reduced by half. You should end up with a thick, rusty coloured sauce. Meanwhile, prepare the couscous by placing it in a bowl and adding 300ml boiling water, remaining olive oil and salt. Cover and leave for 15 minutes, then use a fork to loosen the grains and mix in the butter. Serve the chicken mixture over the couscous, garnished with some chopped coriander and a lemon wedge.