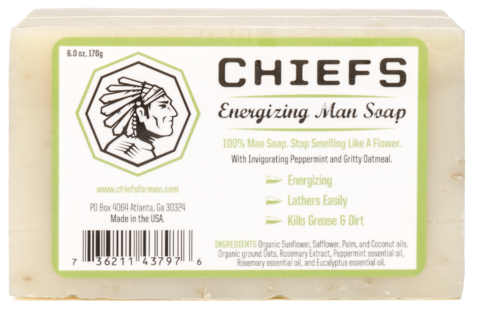 Wake up with an energizing, invigorating, and exfoliating experience that will leave your skin glowing.
Get an amazing lather that will become so addictive you'll teach your son to use this soap.
Kill grease, dirt, and grime with a soap that washes off lightly.
This is an amazing soap that will make your beard grow and your armpits smell like MAN. But in the GOOD way. Yeah! Injected with natural eucalyptus, you'll be like a mint they won't be able to resist putting in their mouth. You'll be so moisturized your own mom will think you've reverted to babyhood.
Here are the specs: Organic Sunflower, Safflower, Palm, and Coconut oils. Organic ground Oats, Rosemary Extract, Peppermint essential oil, Rosemary essential oil, and Eucalyptus essential oil.
Don't trust us? Here are some random people that said things about stuff!