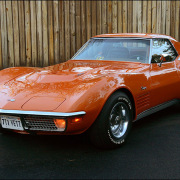 Watch it! And drive it! Or actually wear it. We're not referring to a car, although we should make a short comparison with an actual car or the feeling of owning a really nice car. Imagine yourself behind the wheel of a vintage custom car, let's say in a 70's Corvette, and you're racing around town in that orange beauty owning the streets while you're burning some rubber. Isn't that great?…or almost impossible? This image might seem a little bit too unattainable but the desire of having that car can be replaced with another one that is close to it.
[adsense300gray]Why not have a watch that remembers you of your racing passion? For sure it exists and is exactly the Autodromo Prototipo Chronograph. Just like those 70's Prototype Cars this watch is all about vintage chronographs but with a little touch of modern at each turn.  Having a hybrid meca-quartz movement powered by Seiko, Prototipo relies on an instant mechanical chronograph reset. All these features are wrapped in a stainless steel case, which you will gladly enjoy through its sapphire crystal glass. Surely you will get the feeling of owning a vintage racing car from its Italian Leather Strap which comes in different colors just to remind you of the interior of those amazing cars.
For the price of $625 you can be relieved to know that it is resistant to water, thus is almost like having an enduring and powerful racing car. Wearing this watch you can only say that is like living in the golden age of car prototypes.