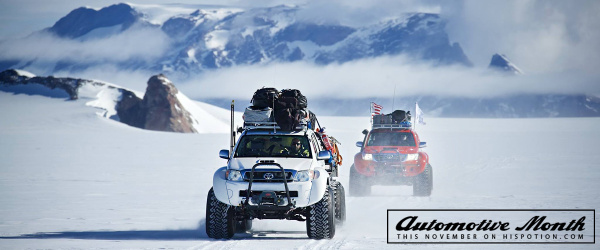 "Winter is coming", says a fairly well-known character. And it comes with goodies, we might add up. Maybe this year you want to get out of the ordinary skiing routine and do some "not so common" things. Well, if you feel this way, we can advise you to adventure yourself past The Wall into the icy, snowy Iceland (yes, the scenes featuring The Night's Watch and the Wildlings have been shot in Iceland). You may experience this dreamy, remote land of the vikings, and "choose the path were no one goes", as the famous song says, in a cool way, that is in some 4 wheel drive Toyotas.
[adsense300gray]And wait, that's not all. We should say that You will do the driving, and this means that you are free to break loose your urge to abuse some vehicles that have been modified in such a way so as they can be used in rough environments. Arctic Trucks Experience offers these tours in Iceland and puts at your disposal some Toyota Hilux and Toyota Land Cruiser, cars that combine off-road capabilities with comfort. You can choose from a great variety of trips. For example you can go on a one day trip to Reykjanes peninsula, where you can visit a Lava cave, and see some magnificent lava formations, then the next stop will be at the beautiful Kleifarvatn lake, where the panoramic view will be completed by the moon-like surroundings, then you will be heading to geotermal area of Krysuvik. The final destination will be the awesome Blue Lagoon, a geothermal man-made spa, one of the most visited attractions in Iceland. Or if this trip isn't enough for you, you may well choose to visit the famous Golden Circle (the guide will take you to some off road tracks) and the Thingvellir, the home of the oldest extant parliamentary institution in the world.
If a one day adventure seems rather short, you can benefit from a two day tour in which you can witness the volcanic eruption north of Vatnajokull glacier in Island. You may well combine a long weekend with half a day where you will be teached the basic skills and techniques you need to know so as to be able to deal with different off road terrains. All in all it sounds like a great experience.
[photomosaic exclude="27008″]