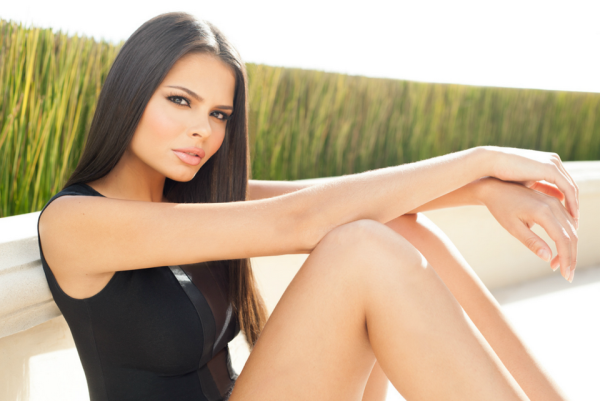 Alana Campos grew up in Brazil in a town with a nickname of "the Island of Magic" because of its no less than 42 beaches that attract surfers and dolphins. "Plus everybody is always smiling. I try to take that happy energy with me wherever I go." she adds about Florianopolis. And to check that out for a fact you should see Last Vegas, where she plays along Robert De Niro, Morgan Freeman and Michael Douglas. We've had the pleasure to spend some time with Alana for a short interview.
How was the whole "Last Vegas" experience? Did you get to know any of the big actors?
Alana: Yes I met all of them, and they were very friendly, and fun, they even told me I did great on my scene. Morgan Freeman asked to have me on his point of view at the time he was shooting the scene that he is talking about me so it was funny, I laughed every time.
What's the best part of your body and why? 
Alana Campos: I love my abs, I workout really hard to be in shape, I like to enjoy life and be able to have a dessert if I want to, and not feel guilty about it.
Do you ever over-use it to get things you want or the way you want them?
Alana Campos: No, I have never used my exterior to get something I want besides modeling jobs of course.
Do you have a favorite female model beside Adriana Lima? Have you ever had a girl crush?
Alana Campos: Adriana is an angel, such a beautiful woman! And YES! I've had a girl crush, I think every girl does, have you never heard that Katy Perry song? 😉
What do you wear to sleep?
Alana: Pajamas or nothing.
How often do you get hit on?
Alana: Over the internet I could say everyday, but in person there aren't many men who approache me.
Are you a giver or receiver?
Alana: I'm definitely a giver.
[adsense300gray]How many times have you Googled yourself? What have you found?
Alana: Not too many times. I found work photos and old publications.
I know you have the latest iPhone, the 5s. What do you like most about it?What apps do you use mostly on your phone beside the social networking apps.
Alana: I love the fingerprint password. Its just easier to unlock the phone, the rest is basically the same of the 5. The app that I use the most is Spotify, I just love listening to music and the way I can create my own playlists.
What's the best invention ever? Why?
Alana: GPS. I always get lost here in LA, is a such big city so I always have my GPS on whenever i go.
I know you went to Ibiza a couple of times. Is it the ultimate party destination? What do you like most about it?
Alana: Ibiza is one of my favorite places in the world. I had the happiest 10 days of my life the first time I went, it's incredibly beautiful, clean, amazing food, friendly people.
I love how people are so chill about everything, not judgmental at all, people there just don't care if you're wearing a Channel bag or a Target bag, everyone has fun and respects each other for who you really are, I think thats pretty awesome.
What's up with Brazil? You once said "All the girls are gorgeous. When you go out at night, you become just another pretty face. It's very annoying."  So what's the secret Brazilian women look so damn fine, could it be Caipirinha?
Alana:  I wouldn't think that caipirinha has anything to do with it. haha
I think we brazilians are a huge mix of races, we have in our blood Africa, Europe, Brazilian native indians and the list goes on.. We have a bit of everything.
Favorite book and/or rock album?
Alana: My favorite book is Deception Point by Dan Brown, I read all his books they're all amazing. Im not a huge fan of rock but I do love the Red Hot Chilli Peppers.
What do you expect from others?
Alana: I've learned not to expect too much from others, I expect little so don't I get disappointed.
Why did the chicken cross the road?
Alana: I guess the chicken wanted to get to the other side. No?!
[photomosaic exclude="18147, 18149″]