Travis Barker seems to be at home with his wife Kourtney Kardashian at his side, days after being taken to the hospital with pancreatitis. View the letter Kris Jenner and Corey Gamble addressed to the subject.
Travis Barker is making progress toward healing. The Blink-182 drummer seems to be back at home less than a week after being hospitalized with pancreatitis. On July 4, Travis appeared to confirm the rumor by uploading a photo of roses from his mother-in-law Kris Jenner and her boyfriend Corey Gamble on his Instagram Story.
"Dearest Travis," a note attached to the flowers read, "Get well soon!!!! We love you." Travis thanked the pair in the caption of the image, which looked to have been taken at his Calabasas, California, home.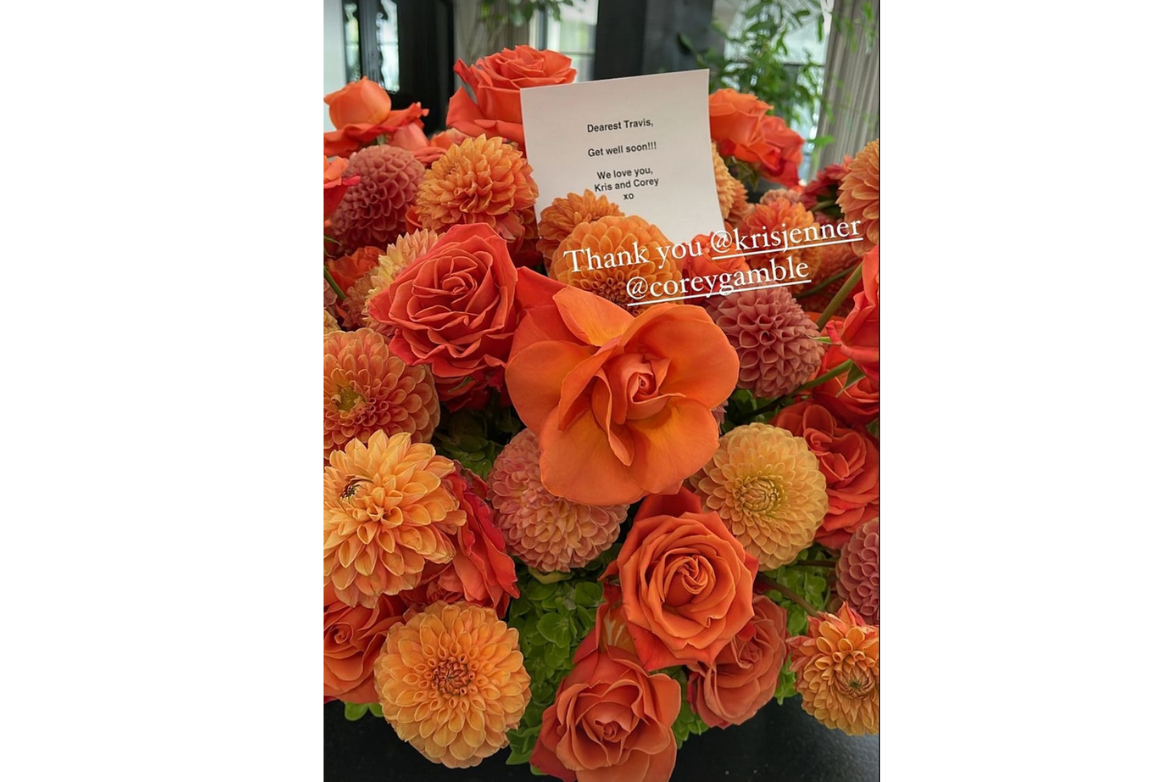 Travis' wife Kourtney Kardashian gave away his hospital discharge on July 3 by tweeting a selfie from inside their classic convertible. On the same day, Travis posted a photo to his Instagram Story displaying a basket full of board games, including Operation, Battleship, and Monopoly.
"I went in for an endoscopy Monday feeling great. But after dinner, I developed excruciating pain and have been hospitalized ever since. During the endoscopy, I had a very small polyp removed right in a very sensitive area, usually handled by specialists, which unfortunately damaged a critical pancreatic drainage tube. This resulted in severe life-threatening pancreatitis."  On his Instagram Story, he wrote.
And he also added: "I am so very very grateful that with the intensive treatment I am currently much better."
 "Oh what a scary and emotional week it has been. Our health is everything and sometimes we take for granted how quickly it can change. Travis and I went in for a routine endoscopy together and he ended up with severe, life-threatening pancreatitis." Kourtney also expressed her husband's health state on social media.