View
New York Fashion Guide For Men. Shops & Stores
in a larger map
It's easy to love New York. The mix of sport, avant-garde and well-tailored make this a truly unique place that constantly inspires and influences. We focused on Manhattan and selected our favorites in one of the world's top style cities.
We're taking a dive deep into New York's men fashion scene and uncover the goodies. We're opening a door that's just locked in any tourist guide for the Big Apple or could be a door you've been passing by numerous times already, not knowing what's behind it – if you're a newyorker. This is a handy guide for your next shopping spree. You'll also find all the stores listed here on our Google Map. Save it.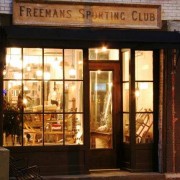 Freeman's Sporting Club (8 Rivington Street)
Freeman's Sporting Club has become the front face of New York's new tailors culture. Bearded men in checkered shirts crowd the sidewalk in front of the shop to check their facial hair is the perfect length. Yes, the club is part a barber shop and part menswear shop.
The store holds both bespoke and ready-to-wear clothing that is produced locally in New York, quite often in limited editions. In addition, the store has gathered a lot of interesting beauty products and perfumes from smaller niche brands. Lastly, the club has a nice secret that we'll let you discover by yourself when visiting (hint: floor).
Barker Black (198 Elizabeth Street)
Barker Black (by Derrick Miller) is rock 'n roll in a pair of brogues (shoes). The design is classic British with subtle brogue pattern and metal parts in the form of skulls and crossbones. The shoes are manufactured in North Hampton on a special development production line of Barker. The store also sells rare stylish silk accessories, belts and braces.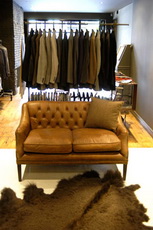 GQ Magazine simply describes their products as "…the kind of well-made handcrafted shoes that Brits are known for, but with more of a modern design punch."
Miller's Oath (510 Greenwich Street)
Derrick Miller's brother Kirk, who worked for Paul Stuart and Thom Browne in the past, opened a tailoring firm last year it's called Miller's Oath. Their signature section includes a single-breasted blazer in a relatively classic silhouette with falling shoulders and waist. Miller's Oath tailors a lot of tweed fabrics including Fox Brothers.
J.Crew Ludlow Shop (50 Hudson)
After the successful J.Crew Liquor Store opened recently,the Ludlow Shop specializes in costumes and clothing. Very tasteful and inspiring store that breathes well dressed sophisticated American style.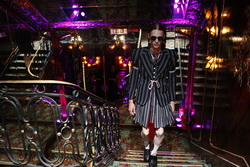 Thom Browne (100 Hudson Street)
Thom Browne store is very discreet, with drawn curtains and a rare minimalist decor, rather reminiscent. Many people have opinions on the stunted aesthetics, but the quality level of the clothes leaves no room for doubtful thoughts. The costumes are sewn by hand in the USA and all knitted garments are made in Scotland.The store also offers a made-to-measure service.
Leffot ( 10 Christopher Street)
Leffot has established itself since 2008 as one of shoemakers most prominent stores. American classics from Alden and Rider Boot Co. mixed with the British premium manufacturers like Gaziano & Girling, Alfred Sargent and Edward Green and the French Corthay in a completely unique mix. A must for anyone who likes shoes.
Saturdays Surf Inc (31 Crosby Street)
A combined shop and espresso bar, it started its operations by selling clothing and equipment for surfers. Today a comprehensive men's fashion store with a little more relaxed feeling in clothes. Scouting particularly in the brand's shorts.
Opening Ceremony (35 Howard Street)
An institution in the New York fashion jungle. An impressive array of both local designers and international fashion brands have created one of the world's most influential fashion shops.
Duncan Quinn (8 Spring Street)
A stone's throw away from the FSC is Duncan Quinn, who represents a much more flamboyant style. On the wall of the store hangs a photo of Michael Caine in a double-breasted suit watching over the store, which summarizes the design language quite well. Aggressively tailored clothes are produced locally in New York where the color palette is as broad as the stripes on his suit.
[adsense336]
Doyle Mueser Bespoke (19th Christopher Street)
A newcomer among the New York tailors, working mainly with bespoke but also has a small selection of ready-to-wear. The cut is very British with high cut armholes and accentuated shoulders with fabrics including Dormeuil, Holland & Sherry and Scabal. The costumes are sewn in a studio in Brooklyn.
Odin (199 Lafayette Street)
Another fashion mecca marketing designers like 3.1 Philip Lim, Engineered Garments, Shipley & Hamos, Burkman Brothers and Thom Browne. They also have stores in East and West Village.
Madison Avenue
Madison Avenue holds some of New York's and perhaps the world's premier flagship stores.To the north you'll find the first interesting stop Alden Shoe Shop (344 Madison Avenue). Paul Stuart (45th Street) offers a much more updated and well-tailored cuts with extravagant feel, scouting particularly in the brand's line Phineos Cole, which is really sharp. J.Press (no. 380) is a must for Ivy-fanatic. Similarly, Ralph Lauren's somewhat fantastic Mansion on 867th Madison – perhaps one of New York's most stunning retail environments.
Now don't settle for those listed here. Go explore, there's nothing better than the joy of finding a shop or store that fits you, your needs or imagination.