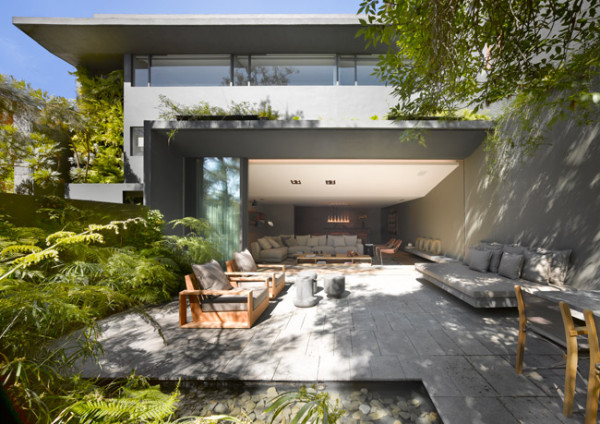 Now here's an interesting demonstration of architectural brilliance! The owners wanted  to reshape their 1970's three-bedroom house by adding a gym, a movie theater, a wine cellar within the existing envelope plus a new master bedroom and a bathroom. However, since the house follows a steep slope in the Mexican neighborhood Lomas de Chapultepec ("lomans" is the Spanish word for "hills") the architect and his team had a very difficult job.
[adsense300gray]
By using movable walls made from glass or wood lattice, the architectural crew managed to reorganize the space. On the first floor they created a living and a dining room which opens to the terrace. On the second floor they made a multipurpose space and the movie theater. At the top of slope, on the third floor, the architects added to the existing three bedrooms and pool a new 2260 square meters master bedroom, a master bath and a breakfast area. From the entrance up to the top floor extensive new plantings of trees and greenery were added.
The architect, who is also experienced in furniture and design, used a rich material palette throughout the house. His expertise can be easily noticed in the design of the master bedroom where a custom-made wood lattice door casts complex shadows upon the grey and white-streaked marble surfaces and opens the interior to the outdoor pool with its impressive vine-covered stucco walls.
Who wouldn't enjoy living in such a wonderful house?
[photomosaic]