Gone are the days where the coolest way to cruise around town was on the back of a two-wheeler with a baseball card pegged to one of the front wheel spokes. To appropriate a quote from George Orwell, Two wheels bad, four wheels good! Check out these five excellent reasons to put down the bike and pick up the board. Before too long you'll be ready to jump online, head to Z-Flex Skateboards, grab some top-notch skating gear and channel your inner-Tony Hawk around town.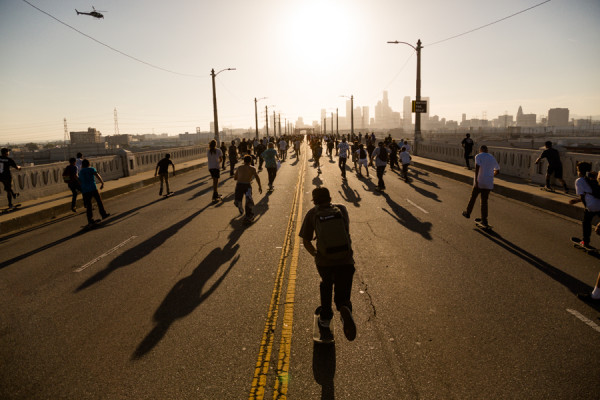 Freedom
Ever see someone deftly navigate a bicycle through a busy pedestrian thoroughfare? No way! It can't be done! Skateboards offer a freedom of movement that simply can't be matched by the humble bike, which effectively means you can go just about wherever you want. And if you ever do find yourself surrounded by an impossibly big crowd just pick up your board and slip through – it's too easy!
Cool
Consider some of the gear you can wear while you're skate boarding. Pretty cool, huh? Okay, now check out some of the gear you'd be potentially wearing as a cyclist. A neon yellow flesh-fitting lycra bodysuit is not quite as cool, particularly after a strenuous 14-kilometre bike ride. If this isn't reason enough to jump onto your online skateboard shop and order a board I don't know what is.
[adsense300gray]
Storage
Do you know what you're saying to the world when you hitch your bike on a post in front of the place you're having dinner? You're saying, hey guys, here's a working bicycle. Help yourself to the front wheel. This doesn't happen when a board is your preferred method of transport. Being much smaller and infinitely more portable, skateboards are not such a big deal if you take it inside, which is good so people won't feel compelled to take it out on a permanent loan.
Tricks
What can you do on a bike? Bunny-hop? Wheelie? That's pretty much it. There's nothing stylish about heading over the handlebars as you try to execute a poorly judged stoppie. But a perfect kick-flip on the other hand looks good every time. Grab some gear from your online skateboard shop and prepare to grind your way to social success, becoming the hottest ticket in town with some seriously impressive tricks.
Cardio
Let's face it – a bicycle is pretty much a portable elliptical machine. Skateboards allow you to get a serious cardio workout in the coolest possible way. Jump on a board and start burning those calories without looking and feeling like a total square.
What do you think about our list? Do you agree with the idea that skateboarding is a superior mode of transport to biking? Can you think of other reasons this might be the case? Leave any comments, suggestions and questions below. And if you're interested in picking up a board, check out some of the online skateboard retailers and equip yourself with some seriously impressive and stylish boarding gear.