There's a very thin line when it comes to staying on the right side of fashion but unfortunately too many men cross that line. There's nothing wrong with dressing on trend, dressing well and taking pride in your appearance, but let's face it – some items of clothing should never get within a million miles of a man's wardrobe.
Here are five men's fashion trends which really need to be quietly retired – and quickly.
Baggy Crotch Hip-Hop Trousers
How did these even become a thing in the first place? Someone has to take the rap for these abominations of menswear, which are essentially trousers with huge, baggy crotches – crotches that dangle down around the knees. The very notion of trousers that sag and gape in all the worst places is an offence to the right-minded man who takes his style seriously and buys properly fitted items from Dobell.
Jumpsuits
'A jumpsuit is a tough look for a man to pull off is he's not hard at work on a construction site or a world famous musician (see not only Kanye West but also David Bowie, Elvis Presley, Barry Gibb.' So says this writer on the Vogue website. In fairness, the piece is in support of the male jumpsuit but read those names again and look at the guys in the first picture – Paul Newman (sporting an awesome beard) and Clint Eastwood, two of the coolest dudes of ALL TIME. The clue's right there. These guys can pull it off. You cannot. Do not attempt.
Vests
Don't get us wrong – vests have a role to play but it's a discreet one, behind the scenes. Fine in plain white beneath a casual shirt worn open or with the top couple of buttons undone, and also fine if it's a sportswear style being worn for sport (we can't stress that stipulation enough). Otherwise, it has no place on any man. Not worn low-cut so that the male nipples are on show, and not worn on University Challenge.
Cargo pants
Are they still around? Amazingly – and though they should have dropped out at the back end of the 1990s – cargo pants are still available and still worn by way too many members of the male species. Acceptable, possibly, only when trekking through the jungle (which is never), it's difficult to know why these would ever be worn. They don't compliment anything, any item of footwear looks rubbish beside them, and the baggy pockets make even the leanest of legs appear stumpy. Ditch.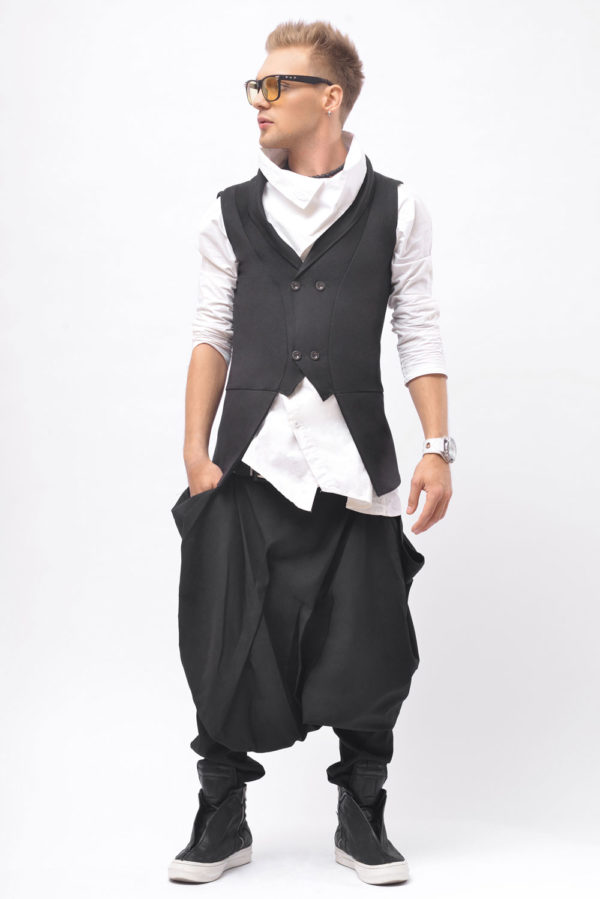 Crocs
Hey – you're five years old, on holiday, and your parents have given you a pair of crocs to wear around the swimming pool in the hotel. You can get them on and off easily, they help to prevent you slipping over if the floor's a bit wet, and they're in a bright, kid-friendly colour. All's good. You can wear your crocs without shame (not that you care anyway, you're five years old). What? You're a 25-year-old man, rocking a pair of crocs? Get out of our sight. Haven't you read this?