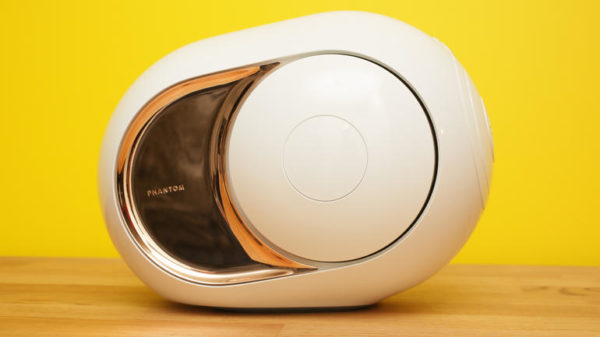 4,500 Watts of Jewelry Speaker
When it comes to wireless audio speakers, there is not much that can compete with French audio brand Devialet, both in terms of quality and price. Priced $600 above it's silver counterpart, Devialet Phantom promises to provide a 4,500 W musical experience, all from the insides of a small round piece.
Technically, Phantom is able to reproduce sounds in a 14Hz – 27Khz frequency – practically, we won't find out too soon, as it's past the capabilities of an audio CD and out of reach for human ears. Compare to previous versions of the Phantom, Devialet rose the power from what was already an insane 3,000W to an absolutely mind bending 4,500W. The result translates in about 108 decibels, more than some small rock concerts are able to provide.
The Phantom lives up to its name; gold insertions are to be found around the speaker. If you are not a fan of WiFi technology, you can still play music through the speaker by Bluetooth or optical cable connection. We'll dream a little and say you can even obtain stereo sound by acquiring a second Devialet Phantom; that is, if you are high of $12,000.
We agree, this isn't your everyday wireless speaker – it's more like the Bugatti of the line. However, for those willing to get jetplane taking off kind of sound power while grinning at gold insertions, this piece is probably suitable for your 50 square meters living room.