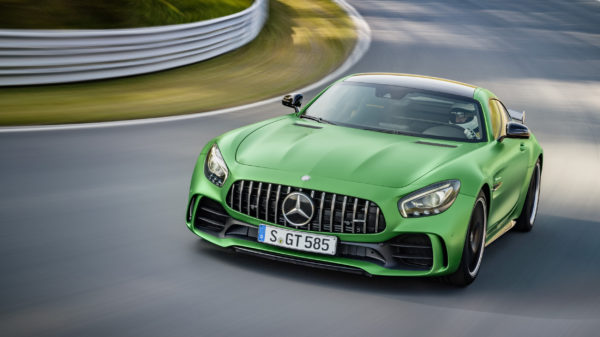 Embrace The Asphalt Jungle
With the color nickname definitely hinting to a particular portion of the Nordschleife, where the car was laid down on the drawing board, the first public encounter with the 2018 Mercedes-Benz AMG GT R is amazing. First of all, the "Green Hell Magno" will be only available for the R version. The tuned down GT units will however provide a vast palette to choose from.
The AMG GT R is powered by a 4 liter V8 unit with twin turbochargers just like the "standard" GT is. Still, the power output has been boosted to 577 horsepower and (wow!!!) 700 NM. The added pump is offered by redesigned exhaust, turbos and enhanced ECU software. Power is sent to the wheels through a AMG Speedshift DCT 7 speed gearbox, tuned specifically for this model.
Mercedes says the AMG GT R reaches 100 km/h (60 mph) in a little under 3.5 seconds – but we've gotta see this happening in real life testing. How does it compare with the original GT-R? The NISMO version of Nissan's GT-R speeds up faster, comes with all-wheel drive and outputs more horses. Still, at least in our opinion, Mercedes has a prettier face to show.
Various subtle changes have been added to improve aerodynamics, grip and track behavior. The car will be officially showcased at Goodwood Festival of Speed this weekend, so you might want to head out now if you're willing to see it live.
Photo credit: Autoblog