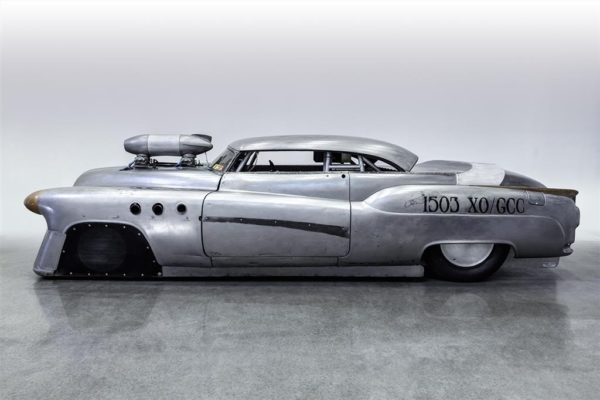 More than a wheeled rocket
Are you eager to slip your way onto the unmeasurable salt lands, topping out dial twisting top speed numbers? Most of the time, this is achieved by so called rockets on wheels. These jet engine based vehicles who only know how to do one thing: go forward and go fast. Even in this metallic muscle head to head challenge, a little drop of style wouldn't mind anyone but the most hardcore.
So, a little passion and emotional design you say? How about a bomb shell? Okay, not an actual World War bombshell, like the one your grandparents casually dig out of their backyard, but an air scoop that resembles a projectile has been added to this 1952 Buick Super Riviera, pumping air into the two carburetors. Want to know the best part: this raw steel finished beauty is for sale!
The interior has been stripped off to the bone, leaving behind a single seater racing-like environment. A 5.2 liter, 8 cylinder engine block paired with an automatic gearbox is used to propel this Riviera, allowing it to bring home 6 titles of the fastest land speed world record. It reached a maximum of 165.35 mph, or 265 km/h.
Since the owner decided it is time to move on, the car is now available for sale.  While the price is definitely a drawback, you probably won't give a damn you're homeless once you spend your last dollars filling its tank and taking a run over the salt wastelands, straightforward.