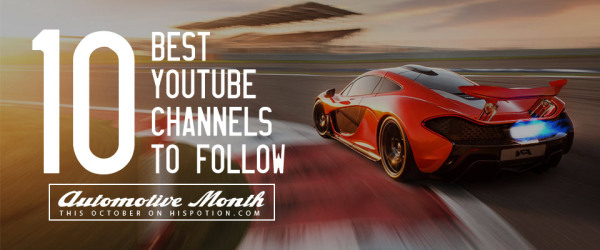 Almost 10 years ago if you wanted to keep up with the latest news in the automotive industry you had to buy tons of magazines or wait until your Sunday TV Car Show. Nowadays a little thing on the internet called Youtube brings the information to every desktop for free. So if you're a car junkie and you want to watch the greatest news and reviews we suggest you subscribe to these 10 Youtube channels we've carefully chosen for you.
Celebrates the culture of cars, taking thier audience on the road, to the races, to the factories, to the studios -and to other places car lovers have always wanted to go, but never had the chance. They are currently rolling season 10 so make sure to subscribe.
Delivers industry-leading news, the most in-depth car reviews and opinion from our team of experts. Their presenters include some of the world's top motoring journalists who have unrivaled access to the world's fastest, rarest, most exotic and most exciting cars on some of the world's best roads and race tracks.
If you love drag racing this is the channel to follow. This crazy Russians organize twice a year a big drag racing event with insanely tuned cars reaching over 240 mph in a 1 mile stretch.

[adsense600]
Are your one stop for automotive news and reviews on YouTube! As the longest running automotive show on YouTube, Fast Lane Daily brings you brand new episodes everyday! Whether you're a full on gear head, like cars a little, or know nothing, they will be certain to entertain you!
Hosted by Matt Farah, is the premier destination for automotive video reviews and adventures. No Hollywood, no bosses, no bullshit. From their brains to your eyes and ears, this is The Smoking Tire. Here is Matt test driving an Aston Martin Vanquish
The Emmy-winning series where Jay Leno gives car reviews, motorcycle reviews, compares cars, and shares his passion and expertise on anything that rolls, explodes, and makes noise. Classic cars, restomods, super cars like the McLaren P1, sports cars like Porsche 918 Spyder and Camaro Z28, cafe racers, vintage cars, and much, much more.
Get your automotive adrenaline charge right here on the Motor Trend channel. From first drives and tests of the hottest new supercars and classic muscle cars to the latest automotive news from around the world, to the incredible machinery and personalities from beyond the automotive mainstream, the Motor Trend channel has it all, delivered daily. The Motor Trend channel. Drive it. Ride it. Live it.

[adsense600]
Want to watch a bit of Top Gear on the interweb? Welcome to the most comprehensive collection of official clips you'll find on YouTube. All the iconic films are here – from Richard's epic race against the Eurofighter to Clarkson's office drive in that tiny Peel P50. You can also relive the boys' biggest challenges – including amphibious cars and that trip across America. Add to that a bunch of stars in our reasonably priced car, the odd explosive stunt and a ton of Stig power laps and everything's covered. Just browse using their playlists for comprehensive clip listings or search by most viewed or discussed. Here is their 4 million subscribers video featuring some of the greatest moments in Top Gear history.
Brings the world's largest car magazine to YouTube. They provide you the latest and greatest from the world's automotive industry; from high-end exotic supercars to new-car reviews—they cover it all.
Is a performance car magazine dedicated to the Thrill of Driving. Their youtube channel covers the latest car news plus reviews of the auto world's greatest and fastest cars, from superminis and performance hot hatches to sports cars and supercars. The battle between Ferrari F12, Lamborghini Aventador and Aston Martin Vanquish got our attention: