George Town, Penang, Malaysia
[two_third]
[adsense300gray]
When I was traveling through Asia for the first time in my life, my plans kept changing at a crazy pace. When planning, back home, I thought I'd stay in Vietnam for a long time, since my instincts were telling me that it was an appealing place. Turned out I disliked Vietnam very much and decided to leave. One of the nearby countries is Malaysia. Off I was to the island of Penang. I'd booked a cute little hotel near the old part of George Town, checked my smartphone and found the "party hostel" and headed there with a case of beer and a smile. Don't forget: do not over dress when heading to a hostel. Don't stand out like a sore thumb if you plan on sneaking in! I used my first night there as a recognition mission and meeting new people.
[/two_third]
[one_third_last]
[/one_third_last]

When the second night came along, I had a plan to talk to a couple of people and invite them to a night market for dinner. Next to the hostel was a small hamburger stand. Off a metal cart pulled by a scooter, a fat Indian-looking man was frying up burgers (which were, to be honest, truly delicious). His cart sported Manchester United paraphernalia and the man, justly aware of who he was catering to, gave his best English accent whenever a Caucasian patron came.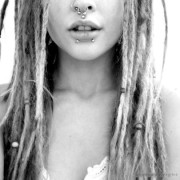 Chatting with a stunningly beautiful dark woman from England and a scruffy but cute American with blonde dreads, I asked where they were planning to have dinner. The English eliminated herself all at once by replying that her and her boyfriend were going to get "Manchester United burgers". I asked the American if she had any plans. "One thing I know, I'm not getting burgers, we're in Malaysia, man!" At that point I convinced both girls and the boyfriend to come along for the ride. I hopped on my rental scooter with the American girl while the other couple hailed a taxi. The night market was all the way across town in a darker, residential area – you know, the place where people actually live. There were no tourists there whatsoever.
The first thing I noticed when we got to the night market was that there was only food – no tube socks, no shoes, no Gangnam Style t-shirts, no fake Ray-Bans. The second thing I noticed is that the woman that was with me was holding on to my arm as if her life depended on it. She was already out of her comfort zone and I was her lifeline to the surface. It felt good.
[728e]

Then our two other friends stepped out of the cab, and the beautiful dark English woman started complaining. "This place looks bad", "what's that terrible smell?", "are we sure we should eat here?", "it's really far from town", "why is it so dark?"… The tone was set.
I knew there were a few dishes I absolutely needed to have. And so we chose a table, and I headed out to get the staples:
[notice][list_icon color="gray" type="icon_info"]
Char Kway Teow. A stir fry of rice noodles, pork fat, dark soy sauce and prawns.

Penang Asam Laksa. Laksa is the national soup dish of Malaysia, and is mainly a soup broth with noodles, cockles and other goodies. The Penang version has tamarind and a strong prawn paste.

A couple of satays. They're the famous Malaysian skewers.

Bak Kut Teh. It's beef noodle soup, with extra cow stomach, of course.
While ordering all that food, I noticed a man selling durian from the back of his truck. I knew right then that I'd need to go buy some for dessert.
First things first: everybody had a bite of the Char Kway Teow. Nobody asked any questions: it's a standard, fatty, salty stir fry.
Then, I quickly explained what the laska was. Everybody dug in and enjoyed. "What's that?" The boyfriend was pointing at a fat cockle with its digestive organs still attached. "Cockle, I said. Do you like clams? Then you'll like cockles!" I didn't point out the fact that it still had its intestines attached and that he could've removed them… it could have killed the mood.
The satays – mostly chicken and beef – were eaten in a flash and the boyfriend asked where he could get some more. I pointed at the stand and asked him to get some extra peanut sauce while he was at it.
[photomosaic width="960″ columns="4″ include="22575, 22576, 22577, 22578″]
As soon as he left, I took the beef soup and started digging out what was hidden inside. I found a rather large piece of cow stomach lining in the soup – it's distinctive by its furry look – and asked the girls if they knew what it was. No clue. I ate the big chunk in a loud slurp as they do over there and took a spoonful of broth. They were both looking at me with the biggest eyes. "Cow stomach." The American looked stunned, and the English stood up flailing her arms and screaming, "eewwww" she said, and her boyfriend, seeing she was panicking, came back running and wondering "what's going on?" She screamed, "he ate cow stomach!" Her boyfriend laughed and went slowly back to the satay stand, still giggling while taking his order back to our stand. Of course, the American's reaction had to be the exact opposite: "Let me taste!" The broth was wonderful, light, with notes of citrus and cinnamon, and the stomach lining was soft and pillowy. She looked at me after a few bites and said,
[note_box]
"this is the first time I eat something like this and it's because of you. I wonder what you'll make me do next."
[/note_box]
The temptation was great to say something racy, however I kept my composure and took her by the hand. "Let's try something new, then. Come!"
We slowly walked towards the end of the night market. Most of the streetlights were off, the street was smelly, and bare-chested, dirty men were eating and laughing around a large round table. We got to the durian truck.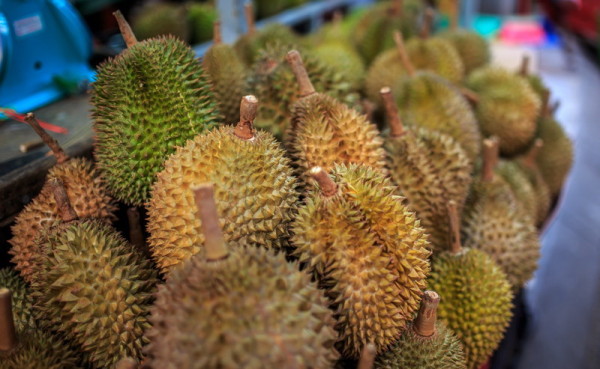 Durian is a fruit that has the most disgusting smell. It kind of smells as if a baby had eaten only peaches for a week pooped. (There's no other way to describe it.) However it has the most delicate soft and custardy flesh and its taste is nothing like its smell. The only issue with durian – and it's the reason why I don't eat it often – is if you belch after eating it. The smell goes straight to your nose and makes you want to die for the next few seconds.
We got to the truck and I bought a piece of the fruit, then got my pocket knife out and carved a piece of it. I spiked some flesh on top of my knife and slowly went towards her mouth. "Don't touch it with your fingers! Mouth only! Be careful, my knife is extra-sharp! …smell it." The reaction is instinctive and inevitable. She grimaced, looked at me and wondered why anyone would want to eat this. "Now stop breathing from your nose and take a bite. Come on! Try it! Don't breathe from your nose." Her eyes turned while she was eating it, and she emitted a loud satisfactory moan. She grabbed on to my arm and wrapped herself around it. "How many more firsts will you make me go through, tonight?"
We went on and found a place to have a couple of drinks next to my hotel. Great nights await those who dare…
by Cédric Lizotte
[728e]