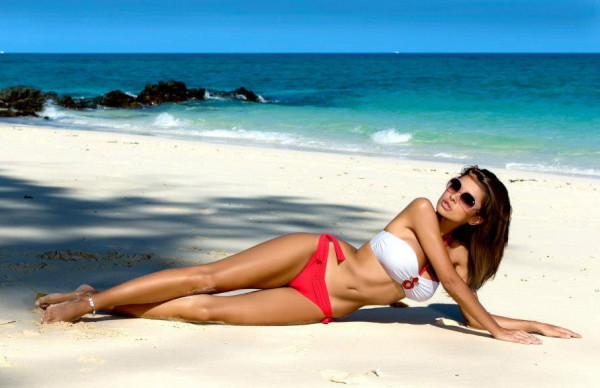 Natalia Siwiec is Polish – you know, from that country with the most beautiful and hot girls in the world, at least that's what Nath thinks. Oh yea, that's what she likes to be called – Nath. Short and simple, but it just goes straight through you – you can tell she's a shooting range regular. She doesn't like to brag too much about anything, and shoots straight to the bullz eye, but that doesn't mean you won't get what she's feeling or what she's saying. Oh no, Nath will touch just the right spots in a way that'll make you flinch.
Without further ado here's Natalia Siwiec's exclusive interview and photo gallery.
How do you stay so fit and sexy? 
Natalia Siwiec: Eat healthy, sleep enough and have much sex.
Do you have any hidden tattoos? What does it say?
Natalia Siwiec: Depends what you mean by hidden …?:) I have a tattoo down there.., which says "enjoy the view". I've done it a few years ago and today I think it was my only mistake, but what can I do.. I'll probably grow long hair there (ahahaha…). But really, I hate it and I must live with it.
How about the gun? 
Natalia Siwiec: I am fascinated by the guns and blood and I have no idea why! I love to go to the shooting range and I especially like the Magnum Desert Eagle (my tattoo is exactly that one). And for me this tattoo represents some kind of power and protection.
What's the best part of your body? Do you ever overuse it to get things you want or the way you want them?
Nath: Hmmmm… I think my best part is my eyes and brain and of course I overuse it a lot! When I'm looking at someone so deep and so sweet like the fawn Bambi and also use some bright words – no one refuses me, believe me 🙂
Tell me one of the weirdest or funniest stories from your modelling life?
Nath: There are so many stories and they're so long… We should meet and spend all night together to tell.
We most probably will!
[adsense300gray]What's it like to be a Playboy cover-girl?
Nath: It's nice but nothing changes. It's all the same as before…
Do you have a favorite female model?
Nath: I like Bianca Balti, Adriana Lima, Doutzen Kroes and Magdalena Frackowiak – the best Polish model!
Have you ever had a girl crush?
Nath: yhmmmm… yes
What do you wear to sleep?
Nath: Depends on the weather. When it's very hot – nothing, when it's colder- a male t-shirt to cover my arms.
What do you like most in men?
Nath: The brain!!! I like nice teeth and penetrating eyes as well.
How often do you get hit on?
Nath: Very often , but I prefer hitting to being hit on.
Are you a giver or receiver?
Nath: Giver and reciever. I give a lot and expect the same.
Poland – Make it famous in one sentence.
Nath: The most beautiful and hot girls in the world.
What's the best invention ever? Why?
Nath: The Internet!!! Because we can connect with people from all over the world and we can find whatever we want in a minute.
We're a website that features smart stuff for men, have you ever thought of an invention that would ease your day to day life?
Nath: Of course. Something what will choose the clothes for me and do my make up and hair very fast because I hate doing it ! And some kind of machine to teleport me to different places very fast!
What is your go-to type of present for guys?
Nath: I am present enough.
If you were to buy a present for him, what would you chose from HisPotion.com ?
Nath: There are so many good gadgets that I really love. But if I have to choose one it would be CXC Motion Pro II Simulator because I would use it too:) I love speed !
Quickies questions:
Beard or no beard?
Nath: Beard but not too long
Best movie ever?
Nath: There are so many! Here's some of them: Pulp Fiction, Fight Club, Lord of War, Shutter Island, A Clockwork Orange, The Devils Advocate.
Zombies or Vampires?
Nath:VAMPIRES!!!!!!
She almost sounds like she wants to get bitten.
What do you expect from others?
Nath: Creativity, loyality and empathy
And finally, why did the chicken cross the road?
Nath: He wanted try something new
You can follow Natalia on Facebook, Instagram and Twitter
[photomosaic exclude="13815″]